Exclusive
Michael Jackson's Kids Met With Attorney After Attempt To Take Them From Their Home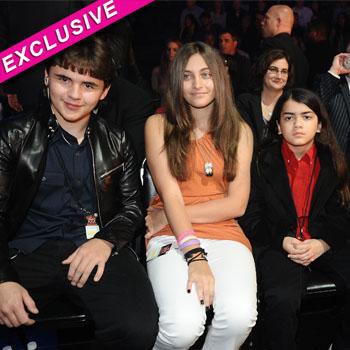 Article continues below advertisement
The King of Pop's children were given their own attorney to represent their best interests after their father tragically died three years ago, and Margaret Lodise was appointed to be their guardian ad litem.
"Margaret went to the house on Monday evening as a meeting with the children was requested," a source close to the situation tells Radar. "This came after Jermaine, Randy and Janet tried to take them out of state. Katherine has now been out of the picture for over a week, and legal options are now being pursued in order to ensure that the children are safe.
"It's certainly extremely concerning to Margaret Lodise that Katherine has been out of town for over a week and that the children haven't spoken to her in that time. Katherine needs to get home quickly because there could be far reaching consequences as far as custody of the kids goes as it pertains to Katherine. It's very likely that Lodise will be going to court as early as Tuesday to express her concerns to the judge, as she has a legal obligation to do so.
Article continues below advertisement
"Paris got into a scuffle with her aunt Janet upon entering the house because she told Paris she had to stop posting family information on Twitter. Janet physically tried to take Paris' cell phone from her, but she wouldn't give it up. It was just a very, very unfortunate situation that didn't need to occur. If Katherine isn't physically capable of taking care of the kids anymore, then the Courts are going to get involved, and very quickly. The kids can't be caught in the middle of the ongoing drama of the Jackson family, period."
Meanwhile, as RadarOnline.com previously reported, Jermaine, Randy and Janet Jackson have been barred from their mother Katherine's Calabasas home after attempting to remove the kids from the house on Monday. The situation adds to the ongoing drama with the Jackson family, as Katherine has been in Arizona for more than a week and hasn't spoken to her grandchildren, of whom she is the legal guardian. "It was just total chaos when Jermaine, Randy and Janet descended on the house," the source revealed.
Article continues below advertisement
"The plan to take the kids out of the house was going to be a publicity stunt. The kids were going to be paraded into the house in Arizona where Katherine is staying and those photos would be published on a website favored by Randy Jackson."
Paris posted on her Twitter: "8 days and counting . something is really off , this isn't like her at all .. i wanna talk directly to my grandmother!!<|3"
Reports circulated on Monday night that Trent Jackson was manipulating Paris to post negative things about the family.
"That is absolutely laughable," the source says. "Prince, Paris and Blanket could all be hauled into court to tell the judge what is going on and Paris would reveal that no one forced her to do anything as far as her Twitter is concerned. In fact, the last thing the Jackson family would want is for those kids to testify under oath about what is really going on in the family. The kids are ready to go to court, as they feel the only thing that can bring their grandmother home," the source says.
Article continues below advertisement
Michael Jackson's Ex-Wife Debbie Rowe 'Extremely Concerned' About His Mom Katherine