Exclusive
What's REALLY Behind Michael Jackson Siblings Bizarre Actions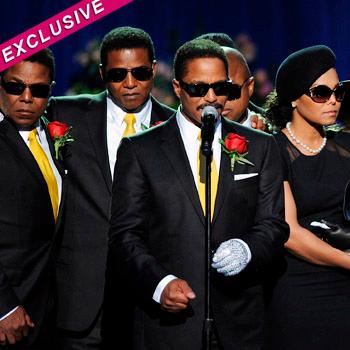 Article continues below advertisement
"Katherine actually dropped her contesting of the will at the behest of these same children who got her to fire Burt Levitch, a lawyer who was challenging the will, and hire Adam Streisand, a lawyer who immediately withdrew the objections and let all time delays run. These are the very same kids, along with Janet, who signed a letter recently criticizing advisors and her current counsel, Perry Sanders, for NOT challenging the will. They themselves were responsible for dropping the prior challenge and letting crucial deadlines run long before Sanders was hired. Not only do they refuse to take responsibility for having the initial challenge dropped, they now want to rewrite history and act as if someone new is causing the problem. However, the children are in her ear 24/7, so it's possible that they could be successful in influencing Katherine to do something."
However, as RadarOnline.com previously reported, the statute of limitations to contest the will has expired, and "no one is to blame except the same siblings who signed the critical letter and who summoned Mr. Levitch to Janet Jackson's house and told him his services were no longer needed. Randy Jackson then hired Adam Streisand to represent his mother," the source says.
"Soon thereafter Adam Streisand made a bombshell revelation during a court proceeding and announced that Katherine would no longer be contesting the will. Katherine and Streisand parted ways about a year ago. Katherine then hired Perry Sanders who, along with Sandy Ribera, successfully increased her monthly allowance to over 70k a month. Perry has also been successful in getting Katherine out of over 14 million in debt and convinced the estate to keep Hayvenhurst, the Encino mansion. It's absolutely mind boggling to try and understand Michael's siblings thought process regarding their claims that there is a big conspiracy involving Michael's will."
Article continues below advertisement
"The siblings' motivation for this very public battle with the executors is all about money, that is all," the insider says. "They are determined to do whatever it takes to try and gain access to the money. Michael's brothers and sisters have also made inquiries about the monthly allowance that his children get from the estate. It's a very substantial amount of money and covers their schooling, security and living expenses. If Katherine were to become incapacitated, or worse....there would absolutely be a custody battle for the kids. Under terms of Michael's will, Diana Ross would become their guardian. However, she has made it known that she isn't at a place in her life where she can do that since she lives on the East Coast and would never think of uprooting them. Debbie Rowe, biological mother to Michael's two oldest children, Prince and Paris, has very strong feelings about making sure none of his siblings or Joe Jackson have an active role in raising the kids."
MORE ON:
Katherine Jackson
Since Jackson's 2009 death -- when he was nearly $500 million dollars in debt -- the executors have earned a whopping $475 million, nearly getting the number out of the red. John Branca and John McClain negotiated a lucrative deal with Pepsi to celebrate the 25th anniversary of the late singer's Bad album, as well as striking a pact with Cirque de Soleil for a Jackson-themed tour.
On Monday, Los Angeles County Sheriff's Department detectives were turned away from the Arizona house where Katherine Jackson is staying because they didn't have jurisdiction. The detectives were told Katherine was safe and returned to Los Angeles without having made any contact with her.
Article continues below advertisement
Meanwhile, Katherine still hasn't spoken to her grandchildren, nor her lawyer. "Why weren't the detectives from Los Angeles allowed to see Katherine when they went to Arizona to do a welfare check? Katherine hasn't been in touch with Michael's children, or her lawyer. Yes, there is a big conspiracy going on, and it's being orchestrated by Michael's brothers and sisters to get their hands on his money," the source claims.
radar_embed service=5min.com src=" http://pshared.5min.com/Scripts/PlayerSeed.js?sid=1126&width=486&height=412&playList=517708406&sequential=1&shuffle=0"
RELATED STORIES:
The Strange Case Of Katherine Jackson: Why Won't Family Let Paris Talk To Her?
Los Angeles County Sheriff's Department En Route To Arizona To Do Welfare Check On Katherine Jackson
Michael Jackson's Ex-Wife Debbie Rowe 'Extremely Concerned' About His Mom Katherine
Police: Katherine Jackson Not Missing, Safe In Arizona