Exclusive
King Of Pop! Michael Jackson Headed For The Guinness Book Of World Records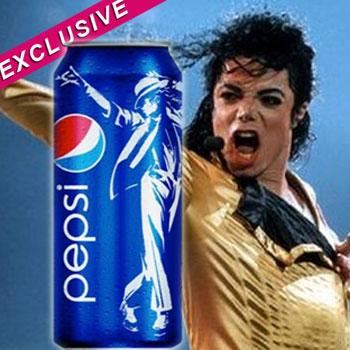 By Jen Heger - RadarOnline.com Assistant Managing Editor
Michael Jackson, the King of Pop, is heading for the Guinness Book Of World Records because one billion Pepsi cans with Jackson's image are going to be produced to celebrate the 25th anniversary of the late singer's Bad album, RadarOnline.com is exclusively reporting.
The executors of Michael Jackson's estate, John Branca and John McClain, negotiated the worldwide deal with Pepsi. The Michael Jackson Pepsi cans will feature Jackson striking one of his iconic poses against a blue backdrop. Consumers will be able to use their smart phones to scan a code on the cans to download remixed versions of Bad.
Article continues below advertisement
Despite the infamous 1984 incident, in which Michael Jackson was burned on his scalp while filming a Pepsi commercial, he continued to have a long-standing professional relationship with the soda giant. "Michael had a long and professional relationship with Pepsi," a source close to the company tells RadarOnline.com. "Pepsi worked with Michael on his Dangerous and Bad tours and he valued the relationship. Anyone that says otherwise is just misinformed. Michael had moved on from the 1984 incident and believed in Pepsi. He wouldn't have done business with the company if he felt otherwise.
"Pepsi plans on releasing one billion cans with Michael Jackson's image. That is just a staggering number and Pepsi plans on reaching out to the Guinness Book of World Records because this has never been done before. The Michael Jackson cans will certainly instantly become a must have for fans and collectors. Michael would have absolutely supported this and loved it."
According to the Los Angeles Times, the Pepsi campaign will also feature merchandise, such as jackets inspired by the original Bad tour, new mixes of music from the album and chances to win tickets to performances of Cirque du Soleil's Michael Jackson: The Immortal World Tour.
Article continues below advertisement
Michael Jackson died on June 25, 2009, of acute propofol intoxication, and his physician, Dr. Conrad Murray was convicted last year of involuntary manslaughter for his role in his former patient's death. Dr. Murray was sentenced to four years in state prison, but because of overcrowding in California's correctional facilities, the former cardiologist is serving his sentence at the Los Angeles County Twin Towers Detention Facility and is expected to serve two years behind bars.