Michael Jackson Had Secret Affair With Whitney Houston, Says Bodyguard Who Claims He's Blanket's Real Dad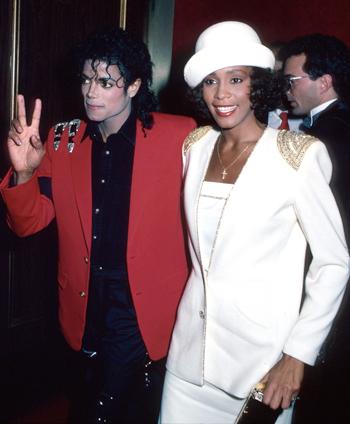 Matt Fiddes, a millionaire martial arts master who was Michael Jackson's bodyguard and confidant for years before his 2009 death, has given a stunning tell-all interview about the King of Pop.
Jackson and Whitney Houston, Fiddes told London's Sun newspaper, had a torrid affair in 1991 and Michael even wanted them to get married.
"Whitney practically moved in to Michael's ranch and they had a fling like any other young couple. But Michael said later he had always hoped the relationship had gone further, and I know he dreamed of marrying her," Fiddes said.
Article continues below advertisement
The relationship only lasted two weeks, Fiddes said. A decade later the two had a tearful reunion at a concert in New York celebrating Jackson's 30 years in music.
"They were both a mess, to be honest. They shared what would be their final hugs and Michael begged Whitney to get off the drugs that were destroying her life," Fiddes recalled. "The two of them whispered that they loved each other as they hugged. The emotion was written all over their faces."
As RadarOnline.com previously reported, Whitney had an affair with Michael's brother Jermaine, in the mid-1980s.
Matt's revelations don't end with Jackson's affair with Whitney.
Fiddes confirmed that Jackson was an anorexic drug addict, covered with needle marks, bald and impotent.
More disturbing, Fiddes said that in Michael's final years he became fixated on Nazism.
One of people around Jackson, Fiddes explained, "was a racist who filled his head with anti-Jewish propaganda....We got rid of the person filling Michael's head with rubbish, and we were able to 're-programme' his mind so he didn't think anti-Semitic thoughts."
Article continues below advertisement
Fiddes, who has a worldwide chain of martial arts schools, said that he is Michael's youngest child, Blanket's, biological father.
In 2001, Michael asked him for a sperm donation because he wanted "an athletic child," Fiddes said. He's now planning to go to court in Los Angeles to ask for a DNA test.
"I only want to see Blanket a couple of times a year. It's not a custody battle."
RELATED STORIES:
Whitney Houston's Death Report Released: Found Facedown In Bathtub, Drugs In The Room