Exclusive
Jackson Siblings Lawyer Up & Prepare To Fight Executors Of Michael's Estate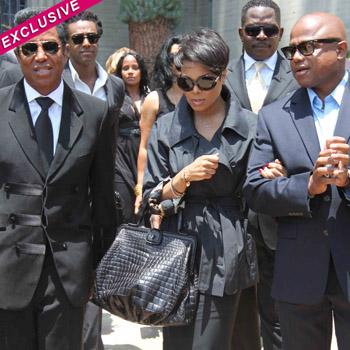 Article continues below advertisement
"The Jackson siblings are discussing taking legal action against the executors of the estate and to become Katherine Jackson's conservator. Janet, Jermaine and Randy feel that they have been left out of all decision making when it comes to Michael, and they want to financially benefit from his estate as well. Janet is also discussing the possibility of petitioning to become Michael's kid's temporary guardian," a source close the situation tells Radar.
However, the Jackson siblings' attempt to have the executors tossed will go nowhere because the statute of limitations to contest the will has expired.
"Katherine actually dropped her contesting of the will at the behest of these same children who got her to fire Burt Levitch, a lawyer who was challenging the will and hire Adam Streisand, a lawyer who immediately withdrew the objections and let all time delays run. These are the very same kids, along with Janet, who signed a letter recently criticizing advisors and her current counsel, Perry Sanders, for NOT challenging the will. They themselves were responsible for dropping the prior challenge and letting crucial deadlines run long before Sanders was hired. Not only do they refuse to take responsibility for having the initial challenge dropped, they now want to rewrite history and act as if someone new is causing the problem. However, the children are in Katherine's ear 24/7, so it's possible that they could be successful in influencing her to do something," a source previously told Radar.
Article continues below advertisement
"Katherine's health is being described as frail by her children, even though she recently passed a physical examination by her doctor. She is being kept in the dark about all of this and has no idea that she is in imminent danger of losing custody of the kids," the insider says.
As RadarOnline.com was first to report -- and as was captured on surveillance video broadcast on Good Morning America Tuesday -- Janet physically tried to take Paris' cell phone from her and the children watched in horror as Jermaine and Randy got into a physical altercation with Trent Jackson, who is Joe Jackson's nephew.
Michael Jackson's children's court-appointed attorney, Margaret Lodise, will be asking a judge to strip Katherine's guardianship of Paris, Prince and Blanket because she has been out of town for more than a week, because she believes the children aren't safe following a physical altercation with Janet, Jermaine and Randy. TJ, Tito Jackson's son, will be seeking temporary guardianship of the kids, something they all want and support.