Exclusive
Katherine Jackson's Attorney Will Seek To Have Guardianship Of Michael Jackson's Kids Reinstated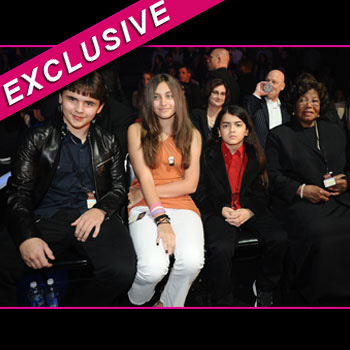 Article continues below advertisement
DOCUMENTS: TJ Jackson Granted Temporary Guardianship Of MJ's Children
As previously reported, Los Angeles Judge Mitchell Beckloff made the ruling in an emergency guardianship hearing Wednesday morning, appointing Tito Jackson's son as the temporary guardian of Prince, Paris and Blanket Jackson. The children have been embroiled in a vicious family struggle for more than a week now as the Jackson siblings are battling over the late King of Pop's will, which half of them claim is fake. The will was validated as legit over two years ago, and there have been three failed attempts to have the will invalidated.
Michael's nephew T.J. has been a constant presence in the children's lives and for the time being will become their temporary guardian. T.J. Jackson got extremely emotional during the hearing and told the judge that when he spoke to his grandmother on the telephone, she didn't sound like herself, and thought other people were on the phone listening to the conversation.
Katherine Jackson was finally able to talk to her grandchildren after more than a week Tuesday night after her attorney flew to Tucscon, Arizona where Katherine has been holed up all week with no access to a telephone, computer or television.
Article continues below advertisement
Katherine's bid to regain guardianship of the children may not be a quick and simple procedure as Diana Ross, who was named as back-up guardian in Michael's will and Debbie Rowe, mother to the two oldest children, must be given formal legal notice of the custody proceedings. Rowe has expressed concern about the children potentially being raised by any of Michael's siblings.
Story developing.....
RELATED STORIES: