Exclusive
Imprisoned Or Pampered? Inside Katherine Jackson's Mysterious Arizona Getaway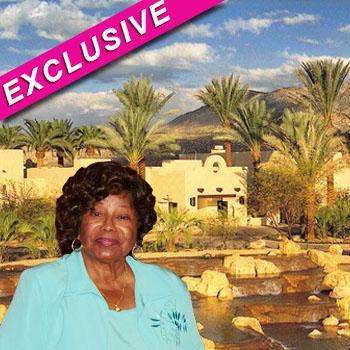 By Debbie Emery - Radar Reporter
While her concerned grandchildren were worried sick about her well-being, Katherine Jackson was relaxing at the luxurious Miraval Resort and Spa, and RadarOnline.com has exclusive details of her stay.
Katherine made a video statement to ABC News on Wednesday night from the all-inclusive retreat in Tucson, Arizona and with family members Janet, Jermaine, Rebbie and Rebbie's daughter Stacy surrounding her, also by her side was a previously unidentified staff member, Vice President of Marketing, Carol Stratford.
Article continues below advertisement
"I just was with them at the time and they wanted to support Miraval and all that we have done for them so they asked me to stand there," Stratford exclusively revealed to RadarOnline.com when asked why she was present in the interview.
"It was something that I wanted to do to support them, I know they have had a rough time," Stratford, who was surprised to be suddenly on camera for a primetime TV interview, went on to tell Radar. "I didn't know I was going to be doing it before yesterday.
"I had spent most of that day with them, I am sure they had it planned but I don't know – they reached out to the media, we didn't."
As previously reported, Michael Jackson's 82-year-old mother was originally reported missing to the Los Angeles County Sheriff's Department last weekend after her grandchildren, Paris, Prince, and Blanket were unable to reach her all week.
In her statement to ABC, Katherine told the camera, "I am devastated that while I've been away, my grandchildren have been taken away from me, and I'm coming home.
Article continues below advertisement
"There are rumors going around about me that I have been kidnapped and held against my will. I am here today to let everybody to know that I am fine. My children would never do a thing to me like that, holding me against my will -- it's very stupid for people to think that."
Far from being mistreated in captivity, the Jackson matriarch has spent the past nine days staying in a luxury, private villa with a personal concierge booking treatments on her behalf in the Life in Balance Spa so she could relax and recuperate to the fullest.
"They enjoyed their visit and chose Miraval because of what we offer all of our guests - a place to live life in the moment. Whether that is stress reduction, health and wellness, relaxation or just enjoying time with family and friends," explained Stratford. "Janet has stayed here before so she recommended us to them."
Located in the Santa Catalina Mountains on 400-acres of land in north Tuscon, the destination offers 90 different complimentary activities for their lucky guests including art, photography, golf, tennis, Pilates, meditation, yoga and even equine therapy with their stable of horses.
Article continues below advertisement
As for Katherine's mental or physical state, the marketing executive told Radar that she appeared in good health. "She seemed fine, she seemed very relaxed and they really enjoyed this little break.
"I didn't see her when she first arrived, I met her for the first time yesterday and she seemed very relaxed and enjoying her family."
Katherine returned to the family compound in Calabasas, Calif. early Thursday, much to the joy of granddaughter Paris, who tweeted, "grandma's here ! #thankyougod <33."