Prince Michael Exposes Text Proving Janet Jackson Refused To Let Katherine Talk To Kids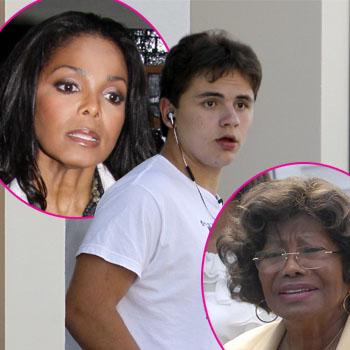 By Neil Woulfe - RadarOnline.com Senior News Director
Michael Jackson's oldest child, Prince Michael, broke his silence Thursday on the drama surrounding his family by tweeting a terse text exchange between he and his aunt, Janet Jackson, which apparently shows the Control singer did not want Prince, nor Paris or Blanket for that matter, to see their grandmother, Katherine Jackson.
In the text -- sent this past Monday at 4:52 PM -- Prince Michael writes "This is enough so I am texting you for the simple fact that WE DEMAND TO SPEAK TO MY GRANDMA NOW!"
Article continues below advertisement
Prince Michael sent the text to his aunts Rebbie and Janet, and also to another relative, Austin Jackson. Janet responded: 'Don't let them pls."
The text exchange contradicts a claim by Randy Jackson earlier this week that Michael's children were free to see or talk with their grandmother at any time.
During an appearance Tuesday on MSNBC's PoliticsNation, Randy spoke with the Rev. Al Sharpton about the altercation that took place a day earlier between some of Michael's siblings and his children at Katherine's Calabasas home.
"We are a family first. I want you to know that," Randy told Sharpton." Yesterday we did go to the home to let Paris and Prince know that they can visit with or talk to their grandma at any time. We felt someone was trying to twist the story that we were denying them access to their grandma.
Moments before Prince tweeted the text exchange, he posted this message:
"I would first like to start off this tweet by thanking the fans that have always stood by me and my family, my dad really appreciated your support and I still treasure it to this day. As I am sure everyone is well aware of the events that have been going on. I have been holding off on backing up my sister and her tweets avidly because I was waiting for the time to reveal my side.
Article continues below advertisement
"As long as I can remember my dad had repeatedly warned me of certain people and their ways. Although I am happy my grandma was returned, after speaking with her I realized how misguided and how badly she was lied to. I'm really angry and hurt. The following image is of a group chat I had started to several family members. This group text message I had started was replied to but they didn't know that I could see the responses. For this whole time, they denied us contact to our grandmother. "If you continue with your lies I will continue with the truth."
As RadarOnline.com previously reported, Katherine Jackson arrived back at the Jackson family compound in Calabasas, California early Thursday, confirmed via a tweet from Paris that read, "grandma's here!"
Hours before she returned, she gave a statement to ABC News. In it, which she read from a paper while surrounded by her kids Janet, Jermaine, and Rebbie, claiming she was "devastated" about losing custody of her grandchildren, and denying her adult children had held her against her will at an Arizona resort for 11 days.