Exclusive
Paris, Prince And Blanket Beg Katherine Jackson: Don't Leave Us Again!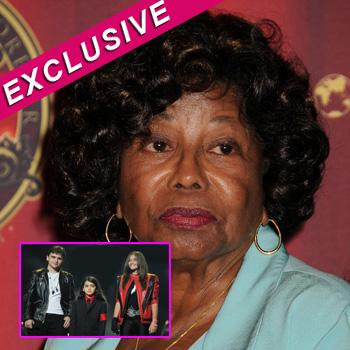 By Jen Heger - RadarOnline.com Assistant Managing Editor
Michael Jackson's children, Prince, Paris and Blanket have begged their grandmother, Katherine Jackson, to never leave them again with no way to be contacted, and have told her they need assurances that she won't abandon them again in order for them to support her bid to become their permanent guardian again, RadarOnline.com is exclusively reporting.
As previously reported, Michael's oldest child, Prince Michael, broke his silence Thursday on the drama surrounding his family by tweeting a terse text exchange between him and his aunt, Janet Jackson, which apparently shows the Control singer did not want Prince, nor Paris or Blanket for that matter, to see their grandmother. In the text -- sent this past Monday at 4:52 p.m. -- Prince Michael writes "This is enough so I am texting you for the simple fact that WE DEMAND TO SPEAK TO MY GRANDMA NOW!"
Article continues below advertisement
Prince Michael sent the text to his aunts Rebbie and Janet, and also to another relative, Austin Jackson. Janet responded: "Don't let them pls."
"It was an extremely emotional reunion with Katherine and the granchildren last night," a source close to the situation tells RadarOnline.com. "Katherine was completely unaware that they had been trying to call her. Katherine heard a much different story about the past week than what she was told by her children, Randy, Jermaine and Janet who were with her in Tucson. Blanket was especially traumatized by Katherine leaving because he is extremely close to her and was absolutely lost without her.
"The kids were all united in telling Katherine that she could never go that long again without contacting them as they had grown so worried about her. Blanket was just glued to her side the entire night and was exhausted with emotion. The kids spent a few hours talking with Katherine and then she went to bed around midnight, it had been a very long day for her as she was driven back from Tucson to Los Angeles, which was an eight hour drive."
Article continues below advertisement
Meanwhile, the Jackson family matriarch will be meeting with her attorneys on Thursday afternoon in her bid to regain custody of her grandkids, which was taken away from her Wednesday and temporarily awarded to Tito Jackson's son, TJ.
"They will discuss the steps needed to reinstate Katherine as the kids' legal guardian. The papers could be filed late Thursday or on Friday," the source says. "It's likely the matter would be heard long before the next scheduled custody hearing date of August 22. Katherine wants legal custody back of the children immediately. Ultimately, the kids will have the final say on who will become their permanent guardian. Michael's kids want and support their grandmother resuming the role, but there will be added layers of protection to make sure nothing like this ever happens again."
Katherine Jackson arrived back at the Jackson family compound in Calabasas, Calif. early Thursday, confirmed via a tweet from Paris that read, "grandma's here!"
Hours before she returned, she gave a statement to ABC News. In it, which she read from a paper while surrounded by Janet, Jermaine, Rebbie and a staffer from the Miraval spa, claiming she was "devastated" about losing custody of her grandchildren, and denying her adult children had held her against her will at an Arizona resort for 11 days.