Paris Jackson Up All Night Tweeting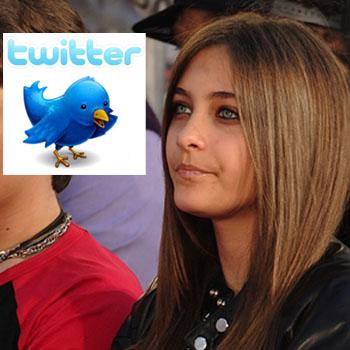 By Adam S. Levy - Radar Staff Writer
There's no doubt Paris Jackson is a smart, cultured and well-spoken young lady, but RadarOnline.com has detected a troublesome trend with the precocious 14-year-old in the wake of her family's ongoing power struggle.
Simply put, the girl is staying up all hours of the night, as evidenced by a pattern in her tweeting habits in the 11-day period her grandmother wordlessly disappeared from their Southern California mansion for an Arizona resort July 15.
Article continues below advertisement
We took a look at Paris's tweeting habits beginning July 1, and from the trail she left, it's evident her family problems have caused her to lose plenty of shut-eye, as she's worried about her grandmother and upset with certain relatives.
Paris hadn't been tweeting late at night until July 14, just prior to Katherine leaving the homestead, when she sent a happy birthday at 12:31 am PT to a Twitter user with the handle @FreddyAmazin.
From there, the floodgates were opened, as she sent a tweet July 18 at 5:53 am PT writing, "running on 4 hours of sleep haha let do this ! ******imma crash before school ends /:"
The late nights really kicked in July 22, when she sent a series of tweets expressing her anguish over her missing grandmother:
1:33 am PT: "yes , my grandmother is missing . i haven't spoken with her in a week i want her home now ."
Article continues below advertisement
1:40 am PT: "if anybody sees my grandmother , please call the authorities or this number— (818)-876-0186 it's the security number .. thank you so much"
1:44 am PT: " the same doctor that testified on behalf of dr murray saying my father was a drug addict (a lie) is caring for my grandmother... just saying"
On July 24, she made reference to her exhaustion in a tweet at 11:58 pm PT, writing, "school in the morning… 5 hours of sleep vs all nighter… what y'all say ?"
On July 26, she sent tweets at 12:17 am PT, 2:51 am PT and a 4:02 am PT tweet that alluded to the lack of slumber, as she wrote, "5 hours of sleep last night , been awake for 23 haha goodnight everybody<33."
She later wrote at 2:17 pm PT: "such a long crazy week .. i needed that sleep haha."
Even with grandma back at home, it seems Paris hasn't shed her night owl ways, as on Friday, she sent tweets at 12:44 am PT, 3:41 am PT, 3:56 am PT and 4:06 am PT. (On the bright side, the tweets did not have the urgent, desperate tone as some of the others the past two weeks.)
Article continues below advertisement