Exclusive
The Real Reason Janet Jackson Joined Siblings In Plot To Overthrow The Executors of Michael's Estate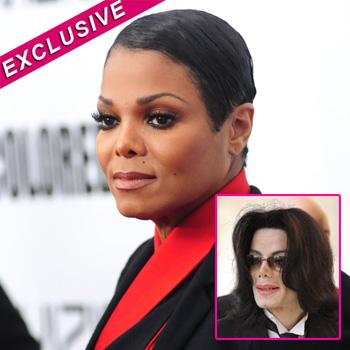 By Jen Heger - Radar Assistant Managing Editor
Randy Jackson has been pressuring his sister Janet to join their other siblings who've been plotting to overthrow the executors of their late brother Michael's estate, and RadarOnline.com has exclusively learned the reason why the reluctant Nasty singer agreed to participate.
Ever since Michael's death three years ago, Randy Jackson has been insisting that brother Michael's will was fraudulent, despite the fact that it was validated by a judge and withstood three legal challenges. The Thriller singer left all of his siblings out of his will and left everything to his three children and to his mother Katherine.
Article continues below advertisement
Longtime watchers of the Jackson family were stunned when Janet's signature appeared on a letter sent to the executors of Michael's estate demanding their immediate resignation -- it was also signed by Randy, Jermaine, Rebbie, and Tito. However, Tito has since publicly expressed regrets about signing the letter.
Janet had been reluctant to join her siblings, but finally relented "after Randy wore her down. Randy and Janet are extremely close, and he told her the only way they had any chance in succeeding in tossing the executors would be if Janet joined them since she is the most famous Jackson member. Randy believed that with Janet aboard, she would legitimize their efforts. Janet finally agreed because she didn't want to disappoint Randy, as he has convinced her that without her, they stood no chance," a source close to the situation tells RadarOnline.com exclusively.
The youngest Jackson sibling made news this week after security video from the house where Michael's children live was released and showed Janet getting into an altercation with Paris Jackson over the teen's cell phone. Janet physically tried to take the 14-year-old's cell phone from her, and the children watched in horror as Jermaine and Randy got into a physical altercation with Trent, who is Joe Jackson's nephew.
Article continues below advertisement
Prince Jackson broke his silence Thursday on the drama surrounding his family by tweeting a terse text exchange between he and his aunt Janet which apparently shows the Control singer did not want Prince, nor Paris or Blanket for that matter, to see their grandmother, Katherine Jackson.
In the text -- sent this past Monday at 4:52 p.m. --  Prince Michael writes "This is enough so I am texting you for the simple fact that WE DEMAND TO SPEAK TO MY GRANDMA NOW!"
Prince Michael sent the text to his aunts Rebbie and Janet, and also to another relative, Austin Jackson. Janet responded: 'Don't let them pls."
Those Tweets were mysteriously deleted from Prince's profile, and he revealed late Thursday afternoon that his account had been hacked.
"The public has seen a very different side of Janet this past week, and she has to be regretting following Randy's advice. Janet is very much like Katherine in that she likes to keep a low profile, and not have family drama play out in the press," our family source tells us.