Katherine And TJ Jackson To Share Custody Of Michael's Kids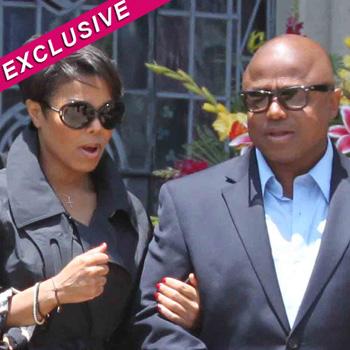 By Jen Heger - Radar Assistant Managing Editor
Katherine and TJ Jackson will be filing court documents Friday morning to share custody of Michael Jackson's three children, Prince, Paris and Blanket, RadarOnilne.com has confirmed.
Katherine's attorney, Perry Sanders, released the following statement:
"Later this morning, T J Jackson's attorney, Charles Shultz, will be filing a petition for TJ to be appointed permanent guardian of Michael Jackson's three children. The court ordered that this petition be filed pursuant to the temporary guardianship he granted TJ on Wednesday of this week.
Article continues below advertisement
"However, after a very productive meeting yesterday, first  between Mrs. Jackson and me, and then joined by Prince Jackson, TJ Jackson and  Mr. Shultz, it was agreed by all that it is in the best interest of Mrs. Jackson and the children to file a modified joint pleading at the beginning of next week.
"With some changes, that pleading will essentially now legally reflect how Mrs. Jackson and TJ have often shared responsibilities of raising the children since Michael Jackson's tragic passing.  Following reaching agreement, Margaret Lodise, the court-appointed guardian ad litem for the children, was brought into the meeting by conference call. Ms. Lodise confirmed with Prince that the agreement reflected the wishes of all the children.  The joint filing will request that the court reinstate Mrs. Jackson and appoint TJ as a co-guardian of Michael's children.
"If the court grants this joint request, it will eliminate concerns such as the ones triggered by the events of the last few days. It will also empower TJ to take joint legal responsibility for certain day to day duties such as the management of household personnel, including security.
It will also make clear for school personnel and anyone else coming into contact with the children that TJ is authorized to act on their behalf.  TJ has  frequently attended school conferences  and dealt with school related matters and this agreement, if approved by the court, allows for continuity  as sanctioned by the court."
Article continues below advertisement
As RadarOnline.com previously reported, Los Angeles Judge Mitchell Beckloff made the ruling to appoint TJ as temporary guardian of the three kids during an emergency guardianship hearing Wednesday morning,. The children have been embroiled in a vicious family struggle for more than a week now as their aunt and uncles battle over the late King of Pop's will, which they claim is fake. The will was validated as legit over two years ago, and there have been three failed attempts to have the will invalidated.
T.J. got extremely emotional during the hearing and told the judge that when he spoke to his grandmother on the telephone, she didn't sound like herself and that he thought other people were on the phone listening to the conversation.
Katherine was finally able to talk to her grandchildren after more than a week Tuesday night after her attorney flew to Tucscon, Arizona where Katherine had been holed up all week with no access to a telephone, computer or television.
Article continues below advertisement
Sanders went on to say:
"Mrs. Jackson will then be freed up to focus on the more personal everyday decision making related to the lives and activities of the children. She would also remain in control of the children's family allowance. Mrs. Jackson is extremely pleased with the prospect of enjoying the pleasure of raising Michael's children without the day to day tedium of items such as managing the large staff that goes with such a high profile family and focus her attention on being a grandmother and raising Michael's children. She greatly appreciates the recent love and concern that supporters have shown for her and the kids, and she hopes the court will grant this request for co-guardianship. She is eager to simply enjoy her great relationship with these children, while deeding over some of the stressors that go hand in hand with being a guardian. Once the joint  filing is made next week, it will be served on all interested parties and the specifics of what is being requested will be spelled out in the public record. Until then, no further official comment about guardianship will be made."