Exclusive
Transgender Cement Butt Implant Victim Runs For President!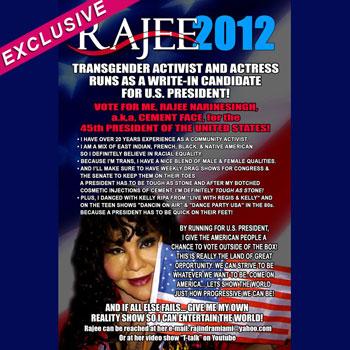 Article continues below advertisement
"That is the beauty of America. It is the land of the free and you strive for what you want, whatever your situation."
As RadarOnline.com previously reported, the preoperative transsexual was the third known victim to receive toxic cement injections from Morris in 2006 to make her look more feminine, but the distorted results were a far cry from the face of her dreams.
Now recovering from her ordeal, the self-proclaimed "Cement Face" has dreams of becoming not only the 45th President of The United States, but the first transgender to take office.
"I did my research and I can run as a write-in candidate, which means I don't need to get names on a ballot. The odds are very slim but I said to myself that if my run is going to expand people's minds then it's worth in," she revealed to RadarOnline.com in an exclusive interview. "By July I have to file an oath of campaign with the electoral office if I am going to proceed forward.
"I am going to put my name out there and see what kind of response I get."
Article continues below advertisement
The 45-year-old from Hollywood, Florida, is already thinking ahead about who would be her right-hand man once she ousts Michelle Obama as first lady.
"If I get into office I need to find a first gentleman, which won't be easy because I don't think one man can handle me!" she joked.
Narinesingh believes that now is the perfect time to make such a political run due to all the recent attention focused on the transgender community.
"With Miss USA contestant Jenna Talackova and Chaz Bono in the spotlight, there are so many transgender people out there doing their thing that it helps us to advance. More people are getting familiarized with the word 'transgender,' so why not Raj the politician?"
On Wednesday, news broke that Against Me! singer Tom Gabel is primed to undergo changes that would have him living life as a woman named Laura Jane Grace.
Article continues below advertisement
While she doesn't have any experience in office, Narinesingh has worked as a community activist for over 20 years.
"I've put myself out there for the LGBT community before, I was always community service-minded and volunteered at the Red Cross when I was in high school. Then when I came out as transgender I focused more on our community," she explained.
"I don't have political experience but with my life experience I am more than capable. The average life span for a transgender is 28, I am 45 so I am about 80 in transgender years!"