Transgender Beauty Queen Gives First Live Interview, Talks About Boyfriend & Having Kids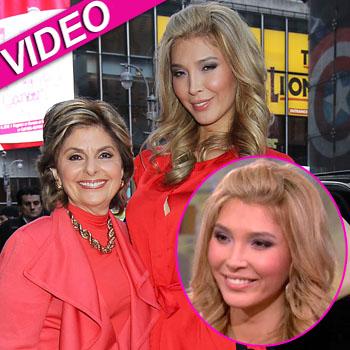 By Amber Goodhand - Radar News Editor
Transgender beauty queen Jenna Talackova did her first live interview on Monday and RadarOnline.com has the clip of the 23-year-old talking about her boyfriend, having kids, advocacy and her fellow pageant contestants.
Jenna appeared on Good Morning America with her powerhouse attorney, Gloria Allred, and also briefly discussed their tiff with Donald Trump and his decision to let Jenna compete in the Miss Universe contest after initially disqualifying her for not being a "naturally born woman."
Article continues below advertisement
"I have a partner for two and a half years. He's really great and supportive," Jenna told GMA'S George Stephanopoulos.
"We had to get to know each other as friends first for a while, and then of course I had to let him know…and he was very supportive, very accepting. He seen me for who I was… Yes, I want to have two children."
The Canadian beauty says she never intended to be a voice for the transgender community, but is receiving a lot of support.
"I never asked to be an advocate. I think The Creator just put it on my lap and I'm hearing a lot of stories from a lot of people, that I've inspired them, and that just makes it so worth it," she said.
"I'm surrounded by amazing ladies in the competition and as soon as I was disqualified, I was getting text messages and emails from them, letting me know that they believe in equality and that they want me to compete."