ON YOUR RADAR: The Year's Busted Celebrities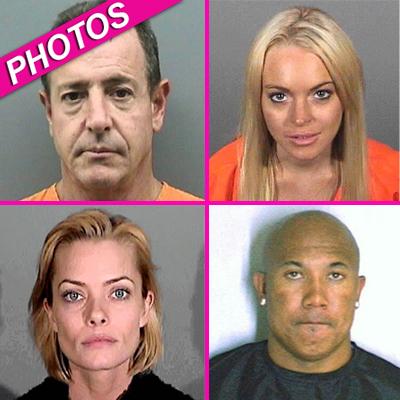 Lindsay Lohan hands down won the non-coveted award for Most Celebrity Legal Woes of the Year. The troubled 25-year-old started off 2011 in the Betty Ford Clinic and things basically went downhill from there!
As RadarOnline.com was first to report, a warrant was issued in February for Lohan's arrest after she was caught on camera stealing a necklace from a Venice Beach jewelers.
She subsequently pled no contest to misdemeanor theft and probation violation (from a previous DUI case) and was sentenced to 120 days in jail, 360 hours of community service at the Downtown Women's Center, and 120 hours at the L.A. County morgue.
Article continues below advertisement
Lohan served her sentence, which equated to 35 days, under house arrest due to jail overcrowding, wearing a tracking ankle monitor, and was pictured partying up a storm on her rooftop terrace — she also failed a random alcohol test during her 'incarceration.'
At a hearing on November 2 a furious Judge Sautner found Lohan to be in violation of her probation and sentenced her to 30 days in the county jail and 400 hours of community service. If she fails to complete the community service she will receive another 270 days in the county jail.
Celebrity Rehab star Michael Lohan followed in his famous daughter's footsteps and also made the police blotter multiple times in 2011, getting arrested three times -- twice in a week in October -- after a series of incidents involving his ex gal pal, Kate Major.
Police in Tampa said he violated the terms of his release from jail by calling Major on the phone just two days after his arrest on battery domestic violence charges in connection with a fight they'd had. Michael had previously been arrested, in March, for allegedly assaulting Major, with police reporting he had attempted to choke her and injured himself to prevent her calling for help.
Article continues below advertisement
Oscar-winning actor Nicolas Cage was arrested in May for domestic abuse/battery and one count of disturbing the peace. The Leaving Las Vegas star also faced a number of financial difficulties throughout the year.
Charlie Sheen's ex-wife, Brooke Mueller, was arrested in December, accused of assault and cocaine possession in Aspen, Colorado. The addiction troubles of Mueller - the mother of Sheen's twins Max and Bob - were well-chronicled on family friend Paris Hilton's short lived 2011 Oxygen series, The World According to Paris.
Outkast singer Big Boi (real name Antwan Andre Patton) was arrested in Miami in August for possession of drugs as he de-boarded a cruise ship. The Hey Ya! rapper reportedly was holding Ecstasy, MDMA (an ingredient in Ecstasy) and Viagra with no prescription.
Miss USA Rima Fakih was arrested on DUI charges in her home state of Michigan in December. Fakih, whose reign ended in June, was the first Arab American to win the Miss USA title.
Article continues below advertisement
Redmond O'Neal, the troubled son of Ryan O'Neal and the late Farrah Fawcett, was arrested on heroin possession charges in August 2011 while still on felony probation for an earlier drug possession case.
After an associate snuck drugs to him while in rehab, he was back in jail, before being placed back into a year-long residential treatment facility in which he'll be required to wear an electronic monitoring bracelet.
Former Destiny's Child singer Farrah Franklin was arrested for "disturbing the peace" in April. She took to her Twitter page to slam the police who arrested her and threatened legal action, writing, "YES, I'm okay & YES there WILL be a lawsuit ! F**K da Culver   City Police !!!! You cant  keep a good girl down," she wrote.
Joe Giudice, husband of The Real Housewives of New Jersey star Teresa, was busted and charged with fraudulently obtaining a state driver's license.
Article continues below advertisement
The reality star, whose real name is Giuseppe, had allegedly obtained a driver's license from the Patterson branch of the Motor Vehicle Office using his brother's identifying information after he had his license suspended following a drunk driving conviction last year which landed him in jail for 10-days.
Another year another arrest for Andy Dick. This time around, the former News Radio star was busted for disorderly conduct after acting "belligerently drunk" at a Marie Callender's restaurant in May.
My Name Is Earl star Jaime Pressley was arrested in January on suspicion of drunk driving. The actress was driving in Santa Monica, California around 11:36 p.m. PT when police pulled her over for a traffic violation.
Former MLB All-Star Manny Ramirez was arrested in September in Weston, Florida after an altercation with his wife and taken to the Broward County jail. The 39-year-old, who played for the Indians, Red Sox, Dodgers and Rays, is no stranger to scandal, getting two substance-related suspensions from the league.
Article continues below advertisement
Woman Disfigured In Meth Explosion Can't Quit Her Habit, Arrested For Cooking Drug Again
Pittsburgh Steelers wide receiver Hines Ward, who won Dancing with the Stars earlier this year, was arrested for DUI in July. The veteran pass catcher appears in the upcoming Batman film The Dark Knight Rises playing (what else?) a football star.
Planet of the Apes actress Estella Warren was involved in a bizarre run-in with cops in June. After having had too much to drink, she reportedly hit three parked cars and kept driving.
After kicking a police officer and being handcuffed and taken into custody, Warren somehow managed to wiggle her way out of the handcuffs and make a swift exit out the back door of the police station, where she was then apprehended by police, again.
She was charged with a DUI, hit-and-run, battery on a police officer and resisting arrest.
Butt Implant Transgender Fake Doctor Injected Cement Into Woman's Face
Green Hornet actor Eddie Furlong was arrested in January for allegedly violating a court order to stay at least 100 yards away from his estranged wife,  Rachael Kneeland.
Furlong, who also starred in Terminator 2, was taken into custody while he was in court for a hearing on the restraining order.
Remember David "Puck" Rainey from the Real World? The wacky bike messenger, who was one of the first reality stars, was arrested and charged in a domestic violence case in Mission Hills, California and booked on suspicion of felony corporal injury on a spouse or cohabitant.