EXCLUSIVE INTERVIEW: Dina Lohan Pleads For 'No Car Chase' As Lindsay Gets Discharged From Betty Ford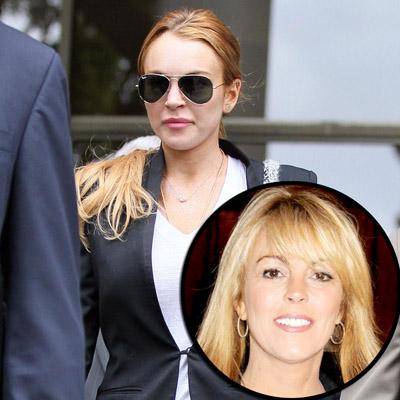 After a 73 day stint at the Betty Ford center, Lindsay Lohan is about to be released from rehab -- possibly as early as Monday -- and her mother Dina tells RadarOnline.com exclusively she wants to avoid any trouble during her daughter's departure from the Betty Ford Center.
"I want to keep everyone safe and make sure there is no car chase," Dina told RadarOnline.com about Lindsay discharge from rehab. Lindsay has completed her court-ordered stay as of Monday.
Article continues below advertisement
In an exclusive interview with RadarOnline.com, Dina explained that the family had made "no definite plans for her pick up" and said reports that claimed she was taking Lindsay to a "secret location" after Betty Ford were not true.
"There is absolutely no secret place we have set up for her.
"I don't want to discuss her plans after she leaves Betty Ford because I want to avoid being followed," Dina told RadarOnline.com. "She doesn't need the stress right now, I just want to move on and have a positive year."
Paparazzi have routinely followed Lindsay and other stars as they enter and leave rehab, often creating a dangerous situation with high-speed car chases -- a scenerio Dina wants to avoid.
EXCLUSIVE INTERVIEW: Lindsay Lohan Nixes Dancing With The Stars Offer, Says Mom Dina
Lindsay, 24, is finishing rehab after first being sentenced to jail but Dina has high hopes for 2011.
"It has been a long two years for us, and we are happy that it's almost over," Dina told RadarOnline.com.