EXCLUSIVE: Sam Lutfi Is NOT Lindsay Lohan's Stalker -- But He Did Contact Her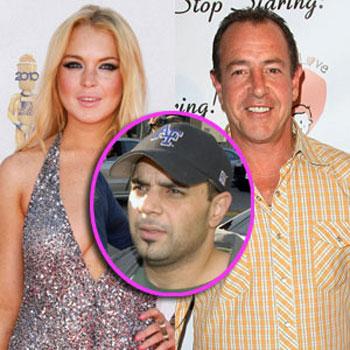 Britney Spears' former manager Sam Lutfi is NOT stalking Lindsay Lohan – but he did send her a text message, according to the actress' dad Michael Lohan.
"I don't know how Sam got Lindsay's number but what I do know is that Sam Lutfi only sent Lindsay one text which said negative things about Dina," Michael revealed to RadarOnline.com in exclusive interview.
"I don't know what his deal is but I told him, 'Don't you ever text my daughter again.'"
Article continues below advertisement
Michael also revealed Lutfi texted Lindsay's older brother Michael Jr. – stating that "Dina was doing the wrong thing."
"I will not judge Sam or the things he is accused of but I know for a fact that a lot of it is lies, put out there by Britney's "TEAM," Michael told RadarOnline.com.
"How ironic is it that they are the same people that are around Lindsay?"
As for the rumors swirling that Lutfi is stalking Lindsay, Michael insisted it's an absurd claim given it's not one, but two people who are responsible for his daughter's traumatic experience.
"Someone is trying to say Sam is the stalker and Sam has nothing to do with that and it has nothing to do with Sam or the press," Michael said.
"It has to do with two particular individuals and they Betty Ford had to move Lindsay to a secret place because of them, not Sam."
As RadarOnline.com previously reported, Lutfi was slapped with a permanent restraining order in September by a former roommate.
Article continues below advertisement
The roommate – Samuel Barth – claimed Lutfi hacked into his Twitter and Facebook accounts, stalked and harassed him, his friends and family and even tried to give his minor daughter a cell phone.
The Web site Bitten & Bound has written extensively about Lutfi's antics with Spears and others. Check out some of their reporting here to see some of the mischief (and worse) that involved Sam.
RELATED STORIES: