Exclusive
EXCLUSIVE PHOTOS & DETAILS: Test My Blood! Charlie Sheen Passes Home Drug Test, Takes Another In Bid To Clear His Name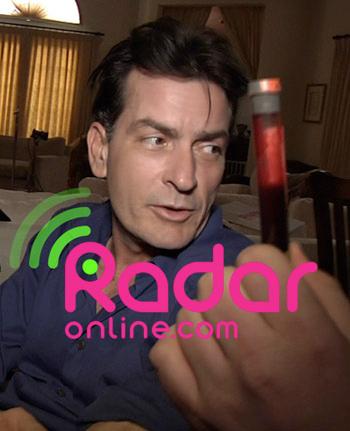 This is Charlie Sheen -- like you have never seen him before -- in a desperate attempt to prove his detractors wrong.
The embattled Two and a Half Men star had three vials of blood drawn from his left arm by a technician from a court-certified toxicology laboratory on Saturday afternoon.
The firm which was engaged by RadarOnline.com to administer urine and blood tests, after the star accepted our challenge to prove once and for all whether he was clean and sober after his hit CBS program was halted.
Article continues below advertisement
The results are expected to be delivered to RadarOnline.com as soon as Sunday night or Monday morning.
As we first revealed, Sheen earlier passed an over-the-counter home urine drug test.
That test was administered before three RadarOnline.com staffers to ensure it could not be compromised.
The First Check test, which is said to be 99% accurate, examines a subject for seven illicit drugs and five prescription drugs.
These include (illicit) marijuana, cocaine, opiates, methamphetamines, ecstasy, amphetamines, phencyclidine (PCP) and (prescription) tricyclic antidepressants, barbiturates, benzodiazepines, methadone and oxycodone.
The test can detect marijuana for up to 40 days, phencyclidine up to 14 days and cocaine, methamphetamine and ecstasy up to four days.
The test result for marijuana had a lighter 'drug line' than the control line, which according to test, doesn't mean a drug was present.
Article continues below advertisement