Exclusive
EXCLUSIVE: Charlie Sheen Passes Home Drug Test Given By Radar - See The Proof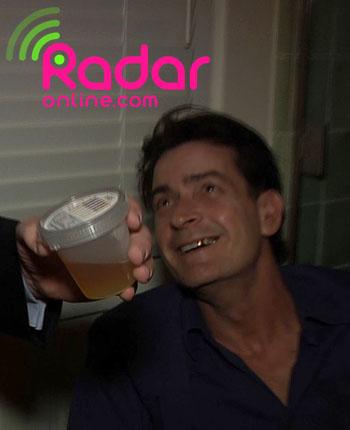 As he insisted he would, Charlie Sheen passed a urine drug test administered in the presence of RadarOnline.com.
The Two And A Half Men star flew back from his tropical vacation in the Bahamas to Los Angeles late on Friday night determined to take a home drug test earlier than Monday, as he had previously agreed to do.
The First Check home test was used and administered before RadarOnline.com's Senior Executive Editor Dylan Howard and two producers so it could not be faked.
Article continues below advertisement
The negative result is a preliminary finding pending a further urine and blood test by a court-certified toxicology laboratory which was conducted at the star's Los Angeles mansion Saturday.
The lab's blood and urine test also came back negative. You can see the results and watch Sheen take the blood test here.
Sheen insisted to RadarOnline.com that despite his history with drugs he is not an addict. In a 25-minute video interview with Radar he blasted his father's recent comments comparing addiction to cancer and talked about his problems. You can watch the interview here.
Sheen, 45, returned a negative finding for First Check test, which is said to be 99% accurate, for seven illicit drugs and five prescription drugs. These include (illicit) marijuana, cocaine, opiates, methamphetamines, ecstasy, amphetamines, phencyclidine (PCP) and (prescription) tricyclic antidepressants, barbiturates, benzodiazepines, methadone and oxycodone.
The test can detect marijuana for up to 40 days, phencyclidine up to 14 days and cocaine, methamphetamine and ecstasy up to four days.
Article continues below advertisement
The test result for marijuana had a lighter 'drug line' than the control line, which according to test, doesn't mean a drug was present.
"Any line next to the word drug, no matter how dark or light, is considered a Negative Result and no further testing is required," the tester notes.
"It is possible that the intensity of the lines will vary among the drugs being tested for due to a variety of reasons such as; how diluted the urine is, the pH or protein level of the urine, or interference from a metabolite in the urine that closely resembles the drug.
"Keep in mind that no matter how faint the Drug line, it is still considered a Negative Result."
LISTEN TO CHARLIE'S STRANGE INTERVIEW FROM FEB. 24th HERE (NSFW)
Sheen accepted RadarOnline.com's challenge to prove he is sober after being confronted with allegations he had fallen off the wagon and was again using drugs, including cocaine.
Moments before he accepted the challenge, CBS released its statement announcing it would immediately stop production of Two and a Half Men because of Sheen's "conduct and condition".
Article continues below advertisement
"These assholes claim they know this and we are going to prove them wrong," said the star, who earned $2 million an episode before the show was halted.
"Out of respect, Dylan Howard called me to see if this was true. I said it was not. Dylan challenged me to a urine test, I told him that if I passed it he would have to drink it!
"We both laughed and now we are going to meet ... blood, urine, whatever, we're testing it.
"I'm so confident where I am at and that these faceless names can't touch me... I know that I will pass the test and prove my detractors wrong."
The hard-partying actor added: "If they do discover my blood to be tiger blood, I hope that nobody will be shocked!"
Sheen just finished a month of at-home rehab after he was hospitalized on January 27 for what his rep said characterized as "severe abdominal pains."
Article continues below advertisement
Sheen had been on a 36-hour bender of cocaine and booze with adult film actresses.
The result of the drug test is a major victory for Sheen, who went on a series of rants this week, including saying he "violently hated" Chuck Lorre, the Two and a Half Men creator who made the decision to suspend the show.
Sheen called Lorre a "stupid, stupid little man and a p**sy punk that I'd never want to be like".
"That's me being polite," said Sheen, adding: "You can tell him Lorre one thing. I own him."
Following the controversial comments, CBS and Warner Bros. announced they had canceled the remaining season of the billion dollar television program.
"Based on the totality of Charlie Sheen's statements, conduct and condition, CBS and Warner Bros. Television have decided to discontinue production of Two and a Half Men for the remainder of the season," their statement read.