'Just Terrible': New Report Says Joan Rivers' Doctors Waited 14 Crucial Minutes To Give Her CPR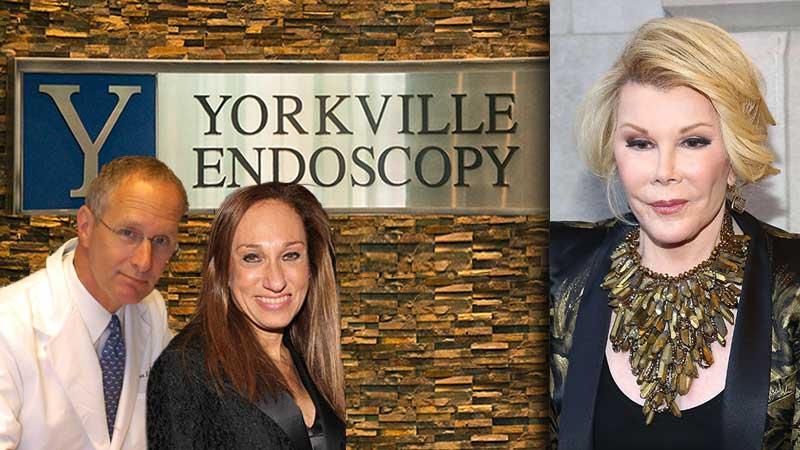 The doctors who tended to Joan Rivers in the Aug. 28 procedure that led to her death could have potentially saved the comic legend's life by administering continuous CPR and dialing 911 upon the first sign of trouble, insiders say in a new report with blow-by-blow details of the scene inside the clinic after she fell ill.
Dr. Lawrence Cohen and Dr. Gwen Korovin "should have stopped the procedure and started resuscitation right away and done an emergency tracheotomy if there was any obstruction — maybe she would still be alive," a source told the NY Post.
Article continues below advertisement
Sources tell the paper (which cited interviews, EMT records and official reports) that Cohen and Korovin spent in excess of 14 minutes working a procedure on Rivers' larynx and trachea at the same time the Fashion Police star's vital signs were taking a turn for the tragic.
Cohen and Korovin spent 10 minutes trying to resuscitate Rivers before contacting emergency authorities, according to the paper, citing EMT records and a report from the Department of Health and Human Services.
A source told the paper that by 9:47 a.m — the time paramedics arrived to the Manhattan clinic— Rivers "had no heartbeat, no pulse" and "she wasn't breathing.
"She had cyanosis around the lips and the mouth — that's when your lips turn blue from lack of oxygen — that takes several minutes without oxygen."
While a team of EMTs were able to revive Rivers' heartbeat and fill her lungs with oxygen, she'd already sustained severe brain damage after going without air for more than five minutes.
Article continues below advertisement
According to the DHHS report, Rivers hadn't signed paperwork authorizing the clinic to move ahead with a laryngoscopy; and Korovin was not permitted to work on the premises. Two unidentified women, an anesthesiologist and an endoscopy technician, were also present during the fateful procedure.
While Rivers had a normal vital signs at 9 a.m., she went into shock 15 minutes later, according to the report, citing the effect of anesthesia or a seizure of the vocal cords (laryngospasm) as possible causes for the swift downturn in health.
The paper, citing multiple medical insiders, said that at around 9:16 a.m., the throat procedure should have been stopped immediately to begin efforts to resuscitate the comedienne, whose blood pressure (92/54) and pulse (56) had sank to hazardous levels.
"At this point, something has gone wrong, the procedure must come to an end, and she needs to be resuscitated," a paramedic who did not work on the case told the paper, based on the official account of the procedure. "If they interceded then, she would probably still be on TV today making fun of what people are wearing."
Article continues below advertisement
At 9:21 a.m., Korovin and Cohen ordered Rivers — whose blood pressure (89/44) and pulse (54) had continued falling into dangerous territory — be given 120 milligrams of Propofol — a move the paramedic said "doesn't make any sense" in terms of "sedating someone who's going into shock."
At 9:26 a.m., Rivers' blood pressure (84/40) and pulse (47) reached such grave levels, the paramedic dubbed it a medical state known as coding: "Where, in the hospital, all the doctors come running."
As RadarOnline.com first reported, a shot of Korovin was snapped in this time frame.
"She's going down the tubes," the paramedic said, "and they're taking a selfie."
At 9:30 a.m., Korovin and Cohen ceased the scoping procedure, with Rivers having a blood pressure of 85/49 and no pulse. They began to administer CPR and give her epinephrine and atropine, but didn't contact 911 until 9:40 a.m., according to the DHHS. At some point they stopped giving Rivers CPR, which the paramedic said was "just terrible" work.
Article continues below advertisement