Exclusive
Melissa Rivers 'Absolutely' Will File Lawsuits Against Yorkville Endoscopy, Source Says – Joan Rivers 'Didn't Have To Die'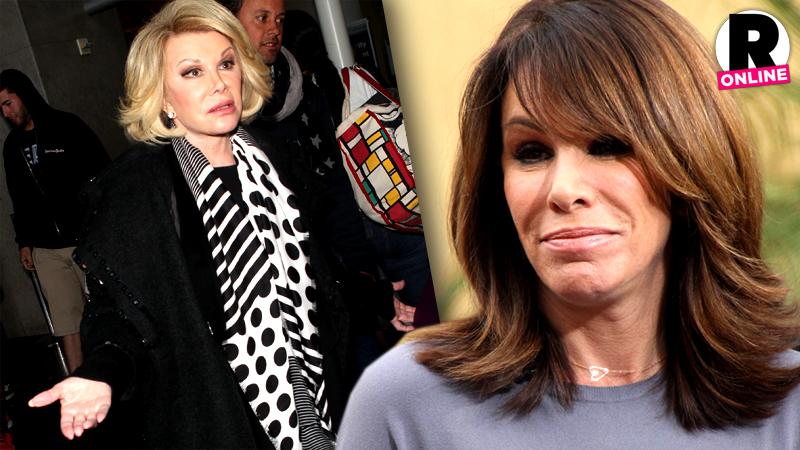 Melissa Rivers is preparing to sue Yorkville Endoscopy, Dr. Lawrence Cohen and a female ear, nose and throat doctor, for the death of her mother, Joan Rivers, as staff members of the clinic told medical investigators about a bombshell event that took place during the procedure that wasn't medically related, RadarOnline.com is exclusively reporting.
"It's become very clear to Melissa and experts she has spoken to that her mother didn't have to die," a source told Radar. "This was a routine endoscopy that went wrong. Melissa has also been told that staff members at Yorkville Endcoscopy revealed a shocking detail to medical investigators looking into Joan's death -- something occurred during the procedure that wasn't medically related."
Article continues below advertisement
"It was something related to Joan's personal ear, nose and throat doctor and it wasn't about the unplanned biopsy she did," the source added. "Melissa will await the outcome of the official medical investigation and then absolutely file the lawsuits.
"She won't be doing it for the money," the source said. "She wants to make sure this doesn't happen to anyone else."
New York's State Health Department continues its investigation into the string of events that led to the Fashion Police star's death a week after the initial procedure.
Last week, Dr. Cohen and Yorkville Endoscopy parted ways after the August 28 incident with Rivers.
Dr. Cohen, who also served as the clinic's medical director, resigned after clinic officials asked him to leave, sources told ABC News.
The reason behind Cohen's split with the facility, the network reported, was that he allowed another doctor who accompanied Rivers — an ear, nose and throat specialist NOT affiliated with, or authorized to work at the clinic — to participate in the procedure in which she went into cardiac arrest.
Rivers stopped breathing during the routine procedure on Aug. 28, 2014, and died at Mount Sinai hospital a week later.
Yorkville Endoscopy, Dr. Cohen and the female ENT doctor all refused to comment citing patient confidentiality laws.