Joan Rivers' ENT Believed To Be Makeup Artist – Wasn't Authorized To Perform Procedures At Clinic: Report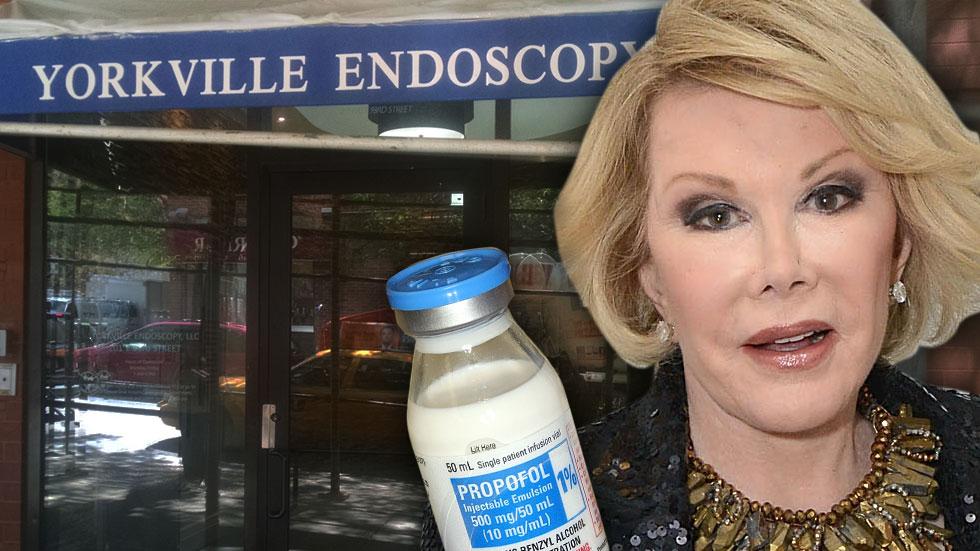 More details are coming to light in the wake of Joan Rivers' shocking death after suffering complications from a minor throat procedure.
RadarOnline.com has learned that an ear, nose and throat doctor in Rivers' procedure room wasn't authorized to practice medicine at Yorkville Endoscopy. The E.N.T. was brought into the operating room with the comedienne's gastroenterologist, Dr. Lawrence Cohen, who is also the medical director of the clinic, according to reports.
Article continues below advertisement
The specialist reportedly examined Rivers' throat before her gastroenterologist performed an upper endoscopy, a procedure that uses a tiny camera to look down a throat in order to see the digestive system.
State and federal regulations require all medical facilities to evaluate doctors' credentials and then grant them a "pass" allowing them to perform procedures. The New York State Health Department is investigating the Fashion Police co-host's death. As of now, neither her E.N.T. nor her gastroenterologist has been found of any wrongdoing.
According to reports, the E.N.T. was identified as an observer and not a doctor, carrying a bag with her that led some to believe that she was Rivers' makeup artist who would be on-hand to "make her look her best" post-procedure.
As RadarOnline.com previously reported, Rivers stopped breathing during the routine procedure on Aug. 28, 2014. Whether the procedure itself led to the complications or the method of sedation – Propofol – caused the problem, remains unclear.
The TV icon passed away at Mount Sinai Hospital a week later.