Impromptu Biopsy On Joan Rivers Should Only Have Been 'Done In A Hospital Setting,' Medical Expert Says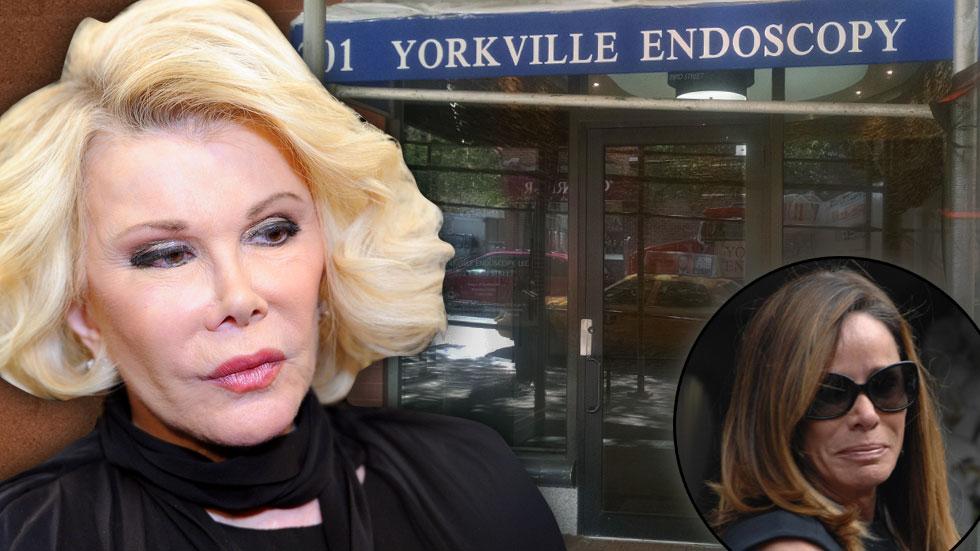 New details have surfaced in the initial procedure Joan Rivers underwent Aug. 28 at New York City's Yorkville Endoscopy, indicating a doctor on duty at the establishment performed an impromptu biopsy on the comic's vocal cords, a bold measure one medical insider said should have "only be done in a hospital setting."
The NY Daily News reported that the comic — who only agreed to undergo an endoscopy, not a biopsy — suffered a seizure of her vocal cords, known as laryngospasm, during the procedure, stopping her breathing.
Article continues below advertisement
The medical source told the paper that if the Fashion Police star "had been in a hospital when it happened, she might have been okay."
A doctor (purportedly an ear, nose and throat specialist) who accompanied Rivers to the clinic, the source told the paper, was the one who decided to attempt the biopsy, requesting use of the clinic's medical tools after the clinic's doctor detected an abnormality on her vocal cords.
"He asked and they let him: A huge no-no," the source told the paper.
Yorkville reps declined to comment on the newest details, citing confidentiality laws; as of early Wednesday, authorities had made no claims of wrongdoing against the facility. (The clinic told ABC News last week they have "the same level of life-saving and resuscitation devices found in any hospital emergency room or hospital-based operating room.")
In related news, the beloved comic's daughter Melissa was joined by family friends at her late mother's home for a lavish gathering to remember the iconic comedienne.
"The house was ablaze — it was like Joan was going to come down the stairs," an insider told the NY Post. "Melissa presented it just like Joan had done.
"It will probably be the last time we see the house that way."
Rivers died Sept. 4 at Mount Sinai Hospital, a week after she fell ill during the initial Aug. 28 procedure. She was 81.