Joan Rivers Predicted Death In Shocking New Interview: 'It's Coming!' PLUS Her Secret Order To Ban Enemies From Her Funeral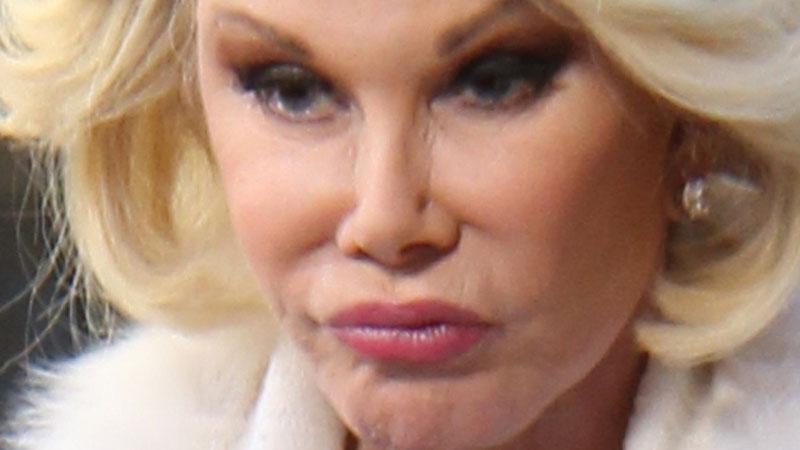 Joan Rivers joked about the possibility of death just hours before she slipped into a coma, but in a newly released interview, the legendary comic spoke about her demise as if she knew it were happening very, very soon.
She even said she was preparing her fragile 46-year-old daughter for the "big blow."
"Melissa says, 'I don't want to hear about it, I don't want to talk about it,' but I say, 'it's coming!'" the late Fashion Police hostess told the U.K.'s Sunday Times Style in a sit-down interview conducted just before her tragic death on September 4. "It's inevitable. It's no longer an abstract thing. It's like, God, I'm in my eighties."
Article continues below advertisement
But despite the macabre acceptance of her fate, she remained positive.
"Nobody, when I die, is going to say, 'How young?' They're going to say, 'She had a great ride!'" she said.
"I'm so, so lucky," she gushed later in the interview, out in the U.K today. "I'm relevant and I'm funny. And I look OK."
The author also reveals that the star gave Melissa "strict instructions" on who should be turned away from her funeral— though she guesses frequent Rivers targets Michelle Obama, Adele and Chelsea Handler will be on the banned list, the normally outspoken comedienne doesn't spill on those decidedly not invited to the services.
The beloved star, who died a week after she stopped breathing during a routine throat surgery at 81, will be celebrated today in a red carpet send-off at a New York City funeral home.
For all the details about Rivers' services, check RadarOnline.com.