Joan Rivers' Wish Granted: Mourners To Walk Red Carpet At Her Funeral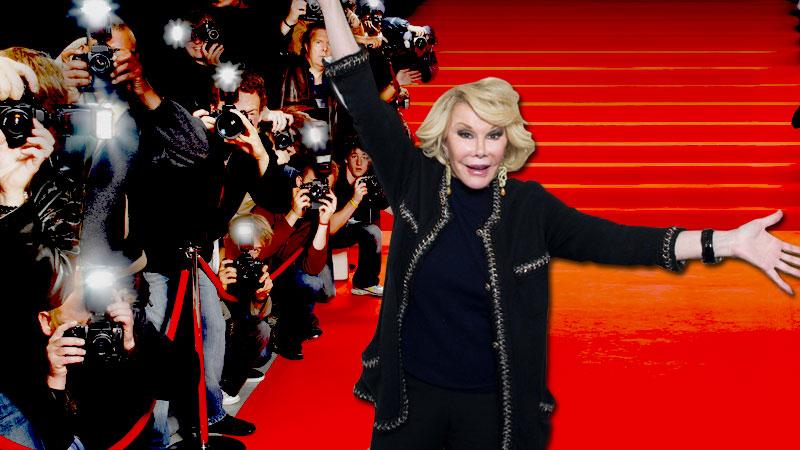 Leave it to Joan Rivers to go out in style!
The comedienne's loved ones are ensuring that one of her biggest wishes for when she passed away would come true: a red carpet at her funeral.
"When I die (and yes, Melissa, that day will come; and yes, Melissa, everything's in your name,) I want my funeral to be a huge showbiz affair with lights, cameras, action," Rivers, who passed away at age 81 a week after she stopped breathing during vocal chord surgery, wrote in her book I Hate Everyone…Starting with Me.
Article continues below advertisement
A source tells Us Weekly that a "lot of celebrities confirmed" that they will attend the service to be held this Sunday at Temple Emanu-El in Manhattan. The magazine also reports that only select mourners will be permitted to walk the carpet, which will then be buried with Rivers' body.
While the red carpet and celebrity attendance at the Fashion Police star's funeral is guaranteed, whether or not Rivers' hilarious other requests will become reality remains to be seen.
"I want Craft services, I want paparazzi and I want publicists making a scene! I want it to be Hollywood all the way. I don't want some rabbi rambling on; I want Meryl Streep crying, in five different accents," Rivers wrote in her 2012 book.
"I don't want a eulogy; I want Bobby Vinton to pick up my head and sing 'Mr. Lonely.' I want to look gorgeous, better dead than I do alive. I want to be buried in a Valentino gown and I want Harry Winston to make me a toe tag. And I want a wind machine so that even in the casket my hair is blowing just like Beyonce's."