5 New Developments In Joan Rivers Death: 8K Fans Want Day In Her Honor, Barbara Walters' Poignant Memories Of Decades-Long Friend, Relationship With Johnny Carson & The Tonight Show Examined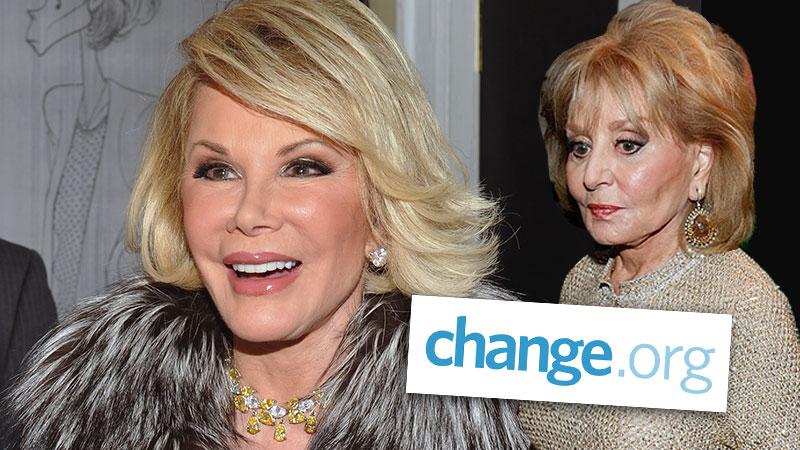 As the world mourns Joan Rivers, Friday's new developments in the 81-year-old's death revolved around a grassroots effort to declare a national day of honor, the future of her E! show, the fallout for the clinic where she initially fell ill in, and poignant memories from those who knew the show biz icon for decades.
National Joan Rivers Day
More than 8,000 people signed a Change.org petition initiated by publicist Richard Harlow, requesting President Barack Obama to declare Sept. 4 "National Joan Rivers Day" following the comedienne's passing Thursday.
Article continues below advertisement
Harlow said he wanted to "give Joan the recognition she deserves," as "she brought laughter to the world for over 50 years with creative and daring statements that pushed the cultural boundaries of our time, opening the doors and minds of millions."
Harlow set up pages on social media sites and in support of the initiative, and Rivers' Fashion Police Kelly Osbourne promoted it on her Twitter page.
Article continues below advertisement
The 84-year-old journalist, who said she first crossed paths with the comic at NBC, called Rivers "a trailblazer who paved the way for female comics," whose "greatest success in life" was her daughter, Melissa.
"There was a closeness and a sweetness between them," Walters wrote of Melissa, who fans tried to comfort in the Big Apple Thursday. "Joan was a great mother, and we liked to talk about our children, who are the same age."
Watch the video on RadarOnline.com:
Watch more news videos | Latest world news
Walters, like Rivers, didn't mince words, bringing up the star's foibles — noting that "she didn't have great success with men" and "had a disappointing marriage" to late husband Edgar Rosenberg — but she said that the Rivers she saw, when the cameras were off, was "the picture of elegance and class" and a hardworking entertainer who thrived in the limelight.
Article continues below advertisement
"No one loved life, laughter, and a good time more than Joan," The View creator wrote. "I will miss her and her love of life."
Fashion Police In Limbo?
The fate of Rivers' E! program, Fashion Police, remains in limbo, as the network Thursday said that it's "mourning our beloved Joan, and will respond at a later date with further programming updates."
"Our hearts are heavy knowing Joan will not be bounding through the doors," the network said, adding that "the world is less funny without her in it."
Rivers' daughter Melissa served as executive producer for the 4-year-old fashion review, which co-stars Giuliana Rancic, Kelly Osbourne, and George Kotsiopoulos. The network, which has put the show on break for the next two weeks, called Rivers "a much beloved member of the E! family for over 20 years."
Endoscopy Clinic
The Yorkville Endoscopy clinic — where Rivers went into cardiac arrest Aug. 28 during a vocal chord procedure last week, triggering the string of events leading to her death — has received death threats from many Rivers fans in the eight days since the comic visited the facility, according to online reports.
Article continues below advertisement
The clinic has taken measures during the tense time, beefing up security and closing early, in reaction to the torrent of menacing messages.
In addition, officials from the New York Dept. of Health are "investigating the matter," a spokesman for the agency told Fox. "It's a full investigation of the matter; Since it's an ongoing investigation, I can't comment on what we're looking at."
As of early Friday, officials had made no claims of wrongdoing had been made against the clinic.
'Carson Was A True Legend, She's A True Legend'
Many of the retrospectives chronicling Rivers' career have focused on her decades-long presence on The Tonight Show as a frequent guest, and eventually, permanent guest host. That time ended after she accepted her own Fox talk show in 1986 to compete with Carson's, effectively ending their working and personal relationships.
Carson's longtime attorney and confidante Henry Bushkin, who also worked for Rivers, spoke with Fox News Thursday on the precarious relationship between the comedy legends.
Article continues below advertisement
"The sad thing, is that she was so funny, but people remember the end," said Bushkin, who recalled that when he crossed paths with Rivers in January, "We were reminiscing of the good times, not bad times."
Watch the video on RadarOnline.com:
youtube
Bushkin, who released a book about his time with the late icon Carson last year, said he "was really saddened when that relationship ended.
"It's a testament to her that she not only survived, but blossomed after that," Bushkin said. "Carson was a true legend, she's a true legend."
Watch the video on RadarOnline.com:
youtube
In a silver lining perhaps, Rivers did make a final appearance on The Tonight Show this past March as a guest of Jimmy Fallon, saying it was a "very special" return.