Exclusive
The Final Photo: Joan Rivers Was 'Happy, Dynamic' In Hours Before Fatal Surgery — Inside Her Last Act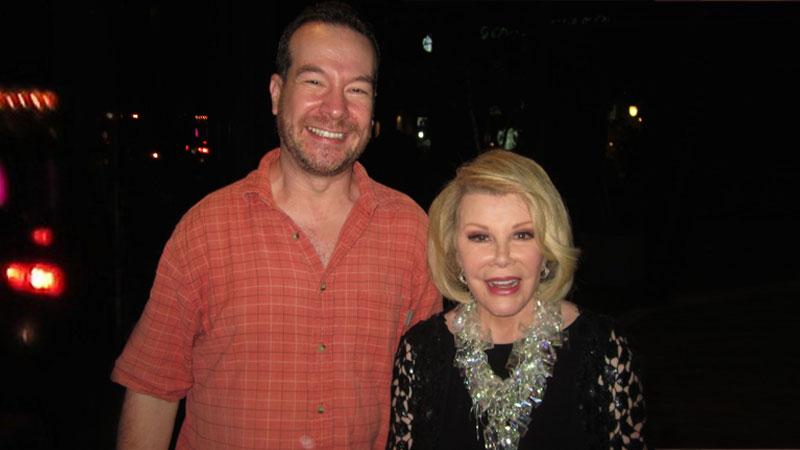 A pro to the end, Joan Rivers was delighting audiences right up until days before her death. And RadarOnline.com has learned that she was "dynamic" and "full of life" during an August 27 performance that would prove to be her final curtain call.
"Her show was amazing," Shade Rupe, who saw the comedienne perform at NYC's Laurie Beechman Theater on August 27, told Radar. "She was really special."
After the performance, Rupe ran into Rivers on the street and summoned the courage to ask the iconic star for a photo. "I could tell her assistants wanted to take her away," Rupe said, but she insisted it was fine. "I thanked her for the picture and she said, 'Oh no, thank you!'"
Article continues below advertisement
"I was very happy," he said. "It was very wonderful. I just walked away completely glowing, with only 4000% positive things to say about Joan Rivers."
Little did he know that his snapshot would prove to be the last one of her alive. Rivers died Thursday after undergoing a routine endoscopy treatment from which she never woke up.
"I'm really really happy that the photograph I caught is not exploitive," Rupe said. "She looks great. She's very happy, extremely full of life. She had just finished an incredible show. Just killed the audience for an hour."
"It shows a very alive, happy, energetic, dynamic woman and it's a tribute," he explained. "Joan Rivers lives forever in that photo."