HiYo! Johnny Carson's Tonight Show Digitized For DVDs, Future Projects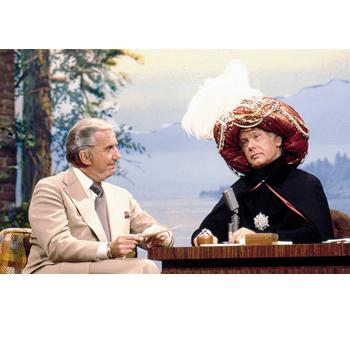 Johnny Carson's three decades of hosting The Tonight Show -- spawning more than 3,000 hours of classic television -- has been digitized for future projects including DVD releases and features for the late icon's Web site.
The massive undertaking, according to Carson Entertainment president Jeff Sotzing, was spurred on by a huge demand for footage of the classic Tonight Show in today's digital age.
"It's amazing to me that even being off the air for 18 years," Sotzing told the LA Times Wednesday, "there's still so much interest in this material."
Article continues below advertisement
NBC's Rick Ludwin expanded on how the Iowa-born comedian left an indelible fingerprint on the American landscape in his 30 years at the helm of the Cadillac of late night franchises.
"That desk and that chair and the couch and the monologue and the band became as familiar as furniture in your own living room," Ludwin told the newspaper. "When any motion picture or documentary wants to put something in historical perspective, they often want to have a Johnny Carson joke from that era."
Along with the digitization, an online database with amazing detail (corresponding clips can be retrieved by typing a name, key word or date) was created for professional clip-licensing purposes.
The legendary talk show host died in 2005 after a battle with emphysema at age 79.
For more info, check out www.johnnycarson.com.