No Biopsy, No General Anesthesia: Yorkville Endoscopy -- Clinic Where Joan Rivers Fell Ill -- Denies Explosive Death Report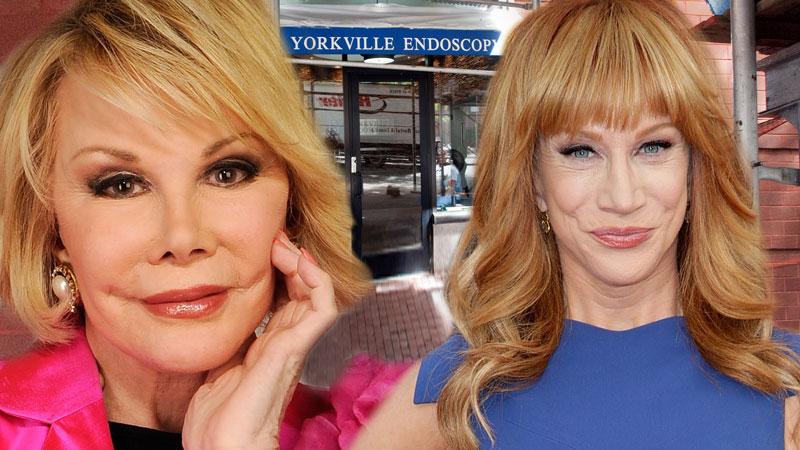 Yorkville Endoscopy, the New York City clinic where Joan Rivers fell ill during an Aug. 28 procedure, denied a recent report that an impromptu biopsy on the comic's vocal cords was performed there, explaining the specific procedure has "never been performed" on the premises, at all.
The facility said in a statement that "general anesthesia has never been administered" there, and that "the type of sedation used … is monitored anesthesia care," adding that their "anesthesiologists utilize light to moderate sedation."
Article continues below advertisement
As we previously reported, a NY Daily News item reported that the comic, who only consented to undergo an endoscopy, suffered a seizure of her vocal cords (known as laryngospasm) in the procedure, stopping breathing.
If Rivers "had been in a hospital when it happened, she might have been okay," a medical source told the paper of the alleged in-house biopsy.
In other Rivers news, the NY Post's Richard Johnson Wednesday, following up on a previous Cindy Adams report in the paper, reported that Kathy Griffin, an insider said, tried to nab Rivers' spot on E!'s Fashion Police while the 81-year-old comic was in a medically-induced coma.
One source discounted the notion Griffin would make such a gesture, adding that "she's not the type of person who would do that.
"Kathy has integrity, and she admired and worshipped Joan."
An E! rep denied the report to the paper, while Griffin's rep Justin Ongert shot it down as "just not true.
"It wasn't Kathy," he told the paper. "I know because it would have had to go through me."
Rivers died Sept. 4 at Mount Sinai Hospital, a week after she fell ill during the initial Aug. 28 procedure.