Exclusive
Disgusting! Joan Rivers Doc Gwen Korovin's Sick Selfie EXPOSED — Last Photo Of Comic Icon, When She Was Under Anesthesia, At Center Of Medical Investigation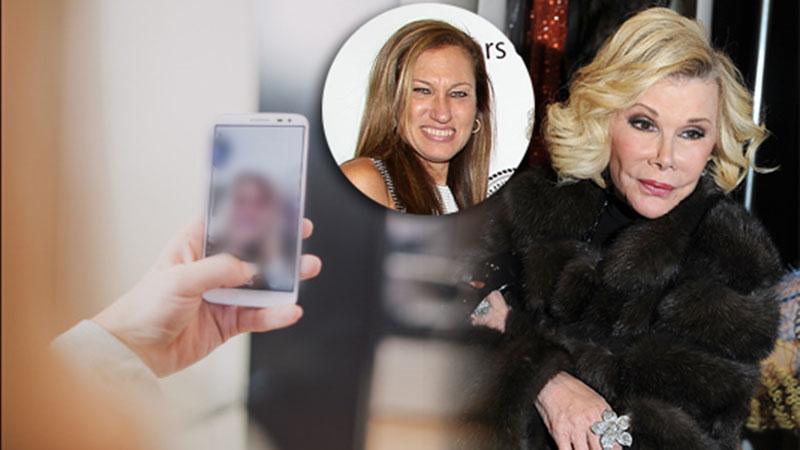 The world was outraged yesterday when RadarOnline.com confirmed that Joan Rivers doctor Gwen Korovin took a selfie in the operating room just moments before Rivers stopped breathing on the table. Now, only RadarOnline.com has all the details of the sick shot — and why investigators are now cracking down on the shady doc after Rivers' tragic death.
Staff from Yorkville Endoscopy, the clinic where Rivers was treated, told medical investigators looking into the death of the 81-year-old that "Dr. Korovin took the selfie with her personal cell phone," an insider tells Radar.
Article continues below advertisement
What's more, an unconscious Rivers "was in the shot," the source reveals. "She was under anesthesia at this point. Everyone in the operating room was just stunned as they had never witnessed anyone do that before."
It was only a few minutes later that Dr. Korovin performed the unauthorized biopsy ​that preceded Rivers' death.
"Joan never consented to the procedure," the source says. "And Dr. Korovin never should have been in the operating room to begin with — certainly not to perform any procedure on Joan, since she didn't have privileges to do so at the clinic."
Medical investigators are now "eager to talk to Dr. Korovin about the events leading up to and after Joan's death," the source claims. "They will certainly be asking what the purpose of taking the selfie was for, and they will want to see it."
Meanwhile, "Joan's daughter Melissa has been telling friends that she is a spineless monster," the source said.
Under the care of Dr. Lawrence Cohen, who performed the endoscopy on Rivers, and her E.N.T. Specialist Korovin, Rivers stopped breathing and later died.
Dr. Cohen, who doubled as the clinic's medical director, has since parted ways with Yorkville. The clinic confirmed his departure, stating, Dr. Cohen "is not currently performing procedures…nor is he currently serving as medical director."
The source added, "Melissa just can't believe a doctor would be so cavalier, especially someone with Dr. Korovin's credentials. Joan was completely vulnerable while under anesthesia, and for her privacy to be violated like that just makes Melissa sick."