Exclusive
Joan Rivers' Shady Doc Gwen Korovin In Hiding After Fatal Surgery — 'She's A Spineless Monster,' Says Source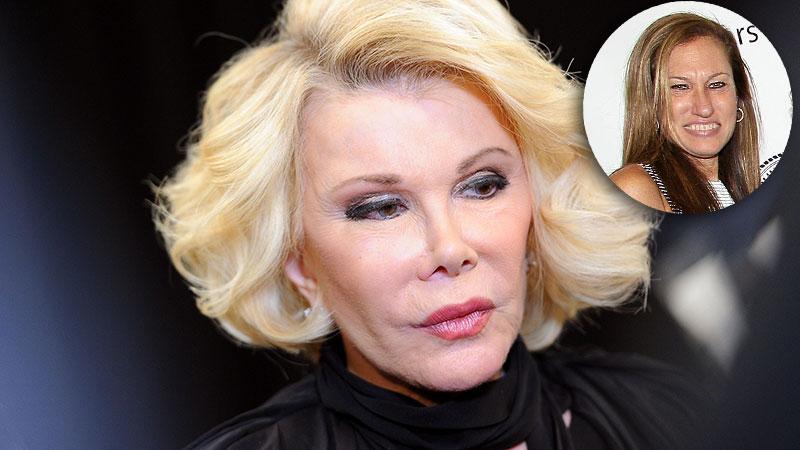 Joan Rivers' personal ear nose and throat specialist Dr. Gwen Korovin never shied away from the limelight when it came to flaunting her celebrity client list and doing high-profile interviews. But RadarOnline.com can reveal that after the biopsy she was doing on Rivers ended in her death — and investigation insiders have accused her of taking a selfie mid-surgery — Korovin has gone deep underground in an attempt to avoid public outcry. Meanwhile, however, Joan's daughter Melissa is moving full-speed-ahead with plans for a lawsuit.
Article continues below advertisement
"Everyone close to Joan thinks Dr. Korovin skipped town," an insider tells RadarOnline.com. "Joan's daughter Melissa has been telling friends that she is a spineless monster." Multiple attempts to reach Korovin at her offices in Manhattan were unsuccessful.
But that won't prevent Korovin — whose celebrity clients have included John Mayer, Ariana Grande, Lady Gaga and more — from having to face the music. RadarOnline.com has exclusively learned that Melissa is telling close friends she will be filing medical board complaints against Korovin and other doctors involved in the endoscopy and unauthorized biopsy on her mother — and she wants their licenses to practice revoked.
Expected to file the complaints by next week at the latest, "Melissa is taking this very seriously," the insider said. "She has been shocked by the reports of her mother's ear, nose and throat doctor took a selfie picture with Joan when she was on the table. It only proves to Melissa that she needs to make sure this doesn't happen to another person. Filing the medical board complaint against Dr. Lawrence Cohen and Dr. Korovin will give Melissa the power to make sure she gets answers."
Article continues below advertisement
"Her mother trusted these doctors to take care of her, and it appears that there was a huge failure of epic proportions on multiple levels," the source continued.
Under the care of Dr. Cohen, who performed the endoscopy on Rivers, and her E.N.T. Specialist Korovin, who performed an unauthorized biopsy on the Fashion Police star, Rivers stopped breathing and later died.
The biopsy was not authorized, as Rivers never signed a consent form. And once it began, her vocal cords began to swell, Anderson 360 revealed Tuesday night. But that's not all. Not only was Korovin not supposed to be treating the comedienne, 81, at this time, medical staffers have also told investigators that she snapped a selfie with the beloved funny woman, while she was under anesthesia – a major violation of privacy, given she did not give her consent to have her picture taken.
Dr. Cohen, who doubled as the clinic's medical director, has since parted ways with Yorkville. The clinic confirmed his departure, stating, Dr. Cohen "is not currently performing procedures…nor is he currently serving as medical director."
The source adds, "Melissa is just absolutely numb from all of this and hasn't had the time to process the fact that her mother died. She hasn't really begun that because of all the questions and controversy surrounding Joan's death. She is touched by the outpouring of love her family has received from Joan's fans. She just keeps saying, her mother shouldn't have died."