No Scoop, No Segment: 'TODAY' Threatened To Pull Kelly Osbourne Appearance If She Didn't Answer Joan Rivers Questions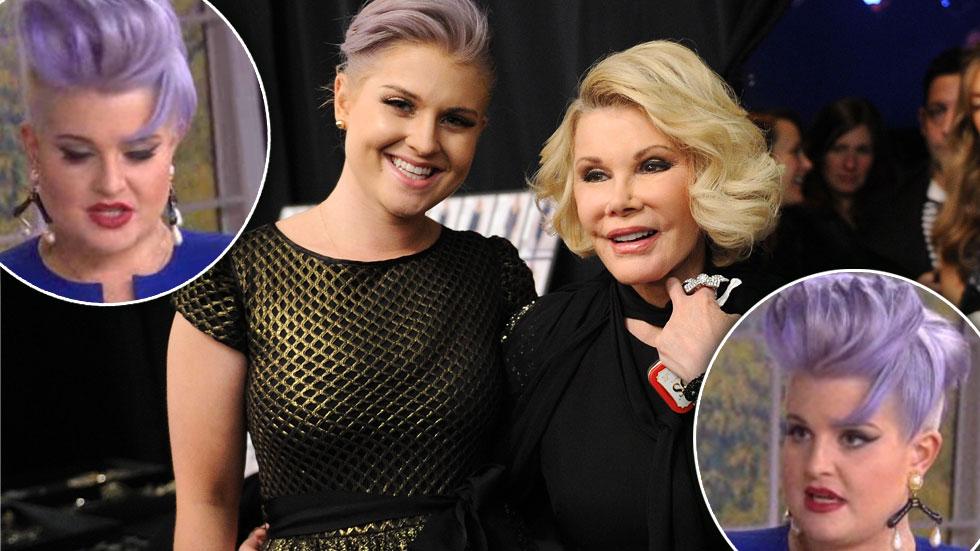 Kelly Osbourne was put on the spot Monday by TODAY show producers, who told the Fashion Police star they had no interest in giving her air time unless she was willing to talk about her late colleague and friend Joan Rivers.
A source told the NY Post that prior to the appearance, Osbourne "begged" a producer to limit the talking points to a promotional tone, saying, "Please don't ask about Joan, I'm here to talk about my clothing line."
Article continues below advertisement
But TODAY producers refused to cater to the 30-year-old, telling her they'd cancel the segment if she wasn't willing to speak about Rivers.
A second insider told the paper that the show let Osbourne know that Rivers would be brought up, but that "no one threatened to pull her from the show" if she refused to answer their questions.
Osbourne eventually was asked about Rivers, dodging the question about the late comic, saying that "its' something, to be honest with you, I really don't like talking about because I haven't been able to mourn and grieve the way that I want to."
Watch the video on RadarOnline.com
Visit NBCNews.com for breaking news, world news, and news about the economy
Later, Osbourne told Kathie Lee Gifford and Hoda Kotb that Rivers was "the grandmother I never had," before asking the wine-sipping duo, "Please can we move on so I don't cry?"
The network avoided hitting the controversial points when asked about the exchange, telling the paper, "We think Kelly is a great guest and we love having her on the show."
Article continues below advertisement
Watch the video on RadarOnline.com
Visit NBCNews.com for breaking news, world news, and news about the economy
Osbourne has been on the fence about returning to the E! series, as a source close to production told RadarOnline.com that the second-generation star "feels that it is pointless to continue on with the show" in the wake of Rivers' Sept. 4 death, and "says that anyone that you try replace Joan Rivers with will fail miserably."
The source added that Osbourne continues to struggle with her friend's death, as "she got so close to Joan while filming … she is so broken right now."