Howard Stern Says Jay Leno's 'A Liar' & 'A Phony' For Claiming His Tonight Show Ban On Joan Rivers Was 'Out Of Respect' For Johnny Carson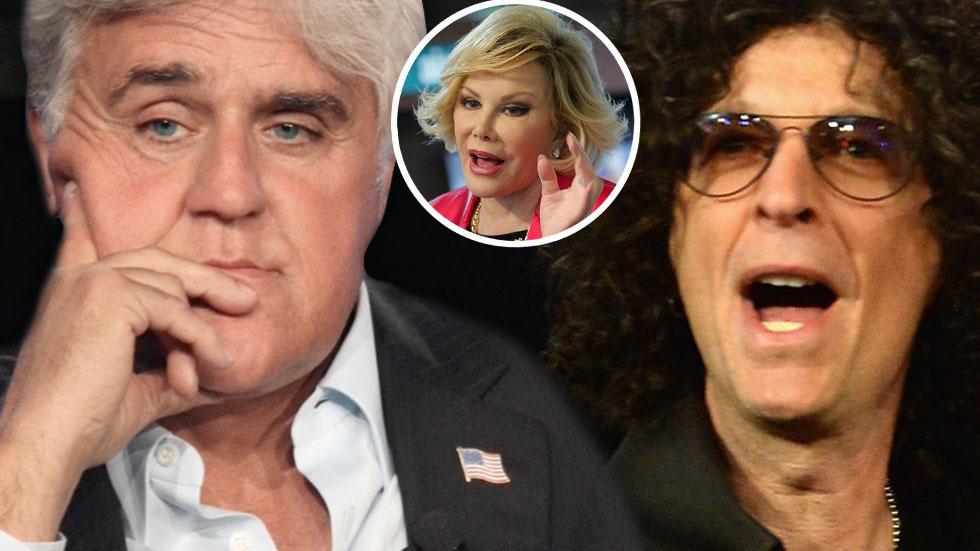 Howard Stern called Jay Leno a "liar" and a "phony" Monday, responding to the former Tonight Show host's comments he never had the late Joan Rivers on as a guest on the NBC juggernaut "out of respect" for his predecessor, Johnny Carson.
Carson and Rivers had a famous falling-out in 1986, after Rivers (a stand-in host for Carson and presence for decades on The Tonight Show) shockingly departed for her own late night gig on Fox. Her absence on the show continued 28 years, ending this spring when Jimmy Fallon took over.
Article continues below advertisement
On Monday, the America's Got Talent judge held nothing back in venting about what he felt was hypocrisy from Leno, who told Extra's Billy Bush he initially kept Rivers off for Carson; and, after Carson's 2005 death, because things between him and Rivers "got a little awkward when Joan was going on and on about" him.
Watch the video on RadarOnline.com
"But I like Joan," Leno told Bush. "We were friends, but by then, it got to be awkward and we just never did it."
But Stern was having none of Leno's spin Monday, as he admittedly hearing the clip "pissed him off to no end."
"F*ckin Jay Leno, man! He's just a phony, he's a f*ckin phony, listen to this bullsh*t he hands out!"
Stern called Leno's Carson-related reasoning of the ban "such horsesh*t," noting that "Johnny didn't want me on the Tonight Show, and Jay Leno put me on."
Watch the video on RadarOnline.com (WARNING: Language Is Explicit)
Article continues below advertisement
youtube=https://www.youtube.com/watch?v=_0XhZar-QeM&w=420&h=315
The Private Parts star — whose grudge with Leno dates back to 2004, after Leno famously poached his flunkie "Stuttering" John Melendez — said the real reason behind Leno's Rivers banishment was because her career was ice cold throughout much of his 22 years hosting the program.
"You know he didn't have her on because Joan wasn't in fashion, or something, it's such a f*cking lie!" said Stern, who delivered Rivers' eulogy. "And Jay wasn't original enough to think, 'I'll put her on, that's really interesting.'
"That's why he didn't have her on – his booking department said she's not happening right now – he's f*cking lying right now."
Stern said he wished Leno would "f*cking come in here and explain that to my face.
"I'd say 'Jay, you're lying, you didn't have her on because you figured she wasn't happening — if she was happening, you would've had her on!'"
Stating the obvious, Stern said, "I'll tell you, I cannot stand the guy — I cannot stand Jay Leno, sorry!"
As for Rivers, the late comedy pioneer made clear her feelings for Leno in March, after her triumphant return to the Tonight Show. She said she hadn't spoken with him in 20 years because she "would … only go places where people are funny, so I would never see him," punctuating her insult with a one-finger salute.
The Howard Stern Show airs weekdays on SiriusXM.