Howard Stern Shoots Back After NBC Exec Tells Him To Tone Down Jay Leno Barbs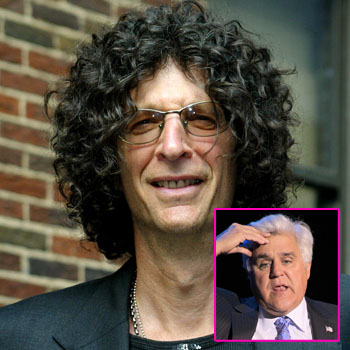 Howard Stern dared NBC officials to remove him from America's Got Talent on his radio show Tuesday, after a Peacock Network exec threatened him against bad mouthing their late night lynchpin, Jay Leno.
The brouhaha began after Stern called Leno a "spineless maggot" on his radio show last week, one of countless times over the past 10 years he's derided The Tonight Show host.
"I got a threatening kind of comment from one of the NBC executives," the King of All Media said. "I was laughing my a** off."
Article continues below advertisement
The radio legend, who inked a five-year, $500 million deal with Sirius Satellite Radio in 2004 and a reportedly-similar deal in 2010, didn't take the opportunity to play the good company man.
"I said, 'Do not tell me to not talk about Jay Leno -- I will f*cking talk about Jay Leno for four hours if you tell me not to,'" he said. "I was done with Jay, now I'm all fired up again: F*** Jay!"
As for the prospects of being taken off NBC for his brash demeanor?
"Take my job away from me. Who cares?" said Stern "Don't f*ckin' threaten me. I don't answer to anybody."
Stern said that the cuts made on The Tonight Show last week were indeed prompted by Leno, even if it wasn't presented to the public as such.
"Jay wanted to cut staff," Stern said. "He's embarrassed to do it. He didn't want to come off as a bad guy. NBC took the hit for him, because they're a corporation. My bullsh*t meter is going off all over the place."
Article continues below advertisement
Stern's relationship with Leno soured in 2004, when Leno covertly recruited Stern's lackey "Stuttering" John Melendez to The Tonight Show, where he served as the announcer for five years. Since the parting of ways, Stern has accused Leno of stealing bits from his radio show, most notably his Jaywalking schtick, which Stern says is a rip-off of his "Homeless Game."
Fun fact: After numerous clashes with management, Howard Stern was fired from NBC's former New York radio station WNBC in November of 1985.