Howard Stern Swears Not To Appear On Jay Leno To Promote His New NBC Gig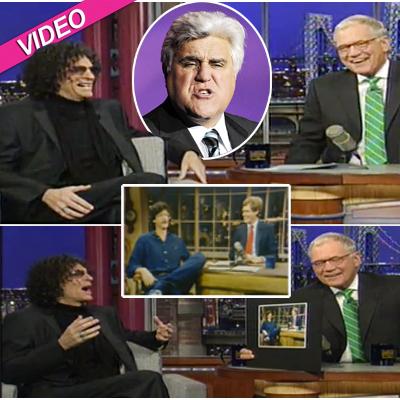 By Adam S. Levy - RadarOnline.com Staff Writer
On a night he celebrated his 30-year anniversary on late night, David Letterman welcomed Howard Stern as his featured guest, and the King of All Media didn't disappoint, lending his hysterical commentary on pop culture with the inimitable wit that's made him radio's brightest-ever star.
Stern -- who announced in December he's taking the spot vacated by Piers Morgan on NBC's America's Got Talent -- swore to his longtime pal Letterman he wouldn't be promoting his new gig on The Tonight Show with Jay Leno, claiming he's a loyal "Letterman guy."
Article continues below advertisement
(Stern's relationship with Leno soured in 2004, when Leno covertly recruited Stern's lackey "Stuttering" John Melendez to The Tonight Show, where he served as the announcer for five years.)
"I'm not interested in going on Jay's show," the radio icon told his TV counterpart. "I'm probably the only idiot in show business who picks sides in these late night wars.
"You announce the war's over, I'm still fighting the war. ... I don't forgive Leno: This is the guy that hid in the closet -- and took away The Tonight Show from you!"
Letterman seemed to take Stern's words with a grain of salt, goading him that NBC would squeeze him to promote America's Got Talent on their centerpiece show.
"I know you're going on that show, NBC will pressure you and pressure you," said Letterman.
Then, doing his inimitable squealing Leno imitation, Letterman said, "And tomorrow night, Howard Stern's gonna be here!"
Stern shot back, "Hey, hold it: Let me remind everybody who did a Super bowl commercial with Jay Leno and Oprah!"
Article continues below advertisement
Watch the video on RadarOnline.com
Stern compared Letterman making nice with Leno to recent reports Rihanna and Chris Brown have rekindled their romance, saying Letterman's "going back to his abuser."
Oscar-nominated Brad Pitt wasn't safe from the Stern shrapnel either, as Stern told Letterman he shouldn't be pining away to have the Moneyball star as a guest on the show.
"Why do you want Brad Pitt on the show? Here's a guy who goes on talk shows ... Brad Pitt is a guest like a sexy woman -- he's gonna sit here, he's got nothing to say, he's stoned out of his brain, he's smoking hash ... there's nothing to interview him about."