Howard Stern Haters Explain 'Zoo Za Zoo' Phenomenon, Say Radio Star Has Censored Phrase From The Airwaves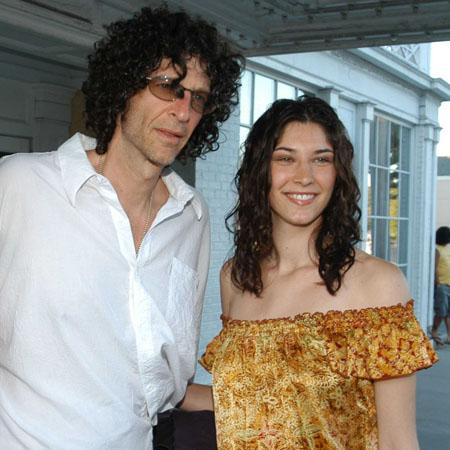 Howard Stern's name spread, in part, through a sect of pranksters devoted to hijacking local and national TV and radio shows with phony phone calls, shouting out their hero's name and show references such as the nickname of his producer, "Baba Booey."
But now the radio legend might be getting a taste of his own medicine from a band of fans disappointed with his current product, as one disgruntled listener points out that "Baba Booey" has been replaced with "Zoo Za Zoo," the title of a folksy, spoken-word track released by Stern's oldest daughter, Emily, from her album Birth Day.
Article continues below advertisement
Vashier, a representative of Dawg's Saloon -- the site where outspoken former fans of the Private Parts star congregate to rip on their one-time king -- told RadarOnline.com that the reference gained steam as a way to needle the America's Got Talent judge, who previously devoted chunks of his satellite show goofing on the musical efforts of Tom Hanks' rapper son, Chet Haze.
"He went on and on about how ridiculous it was for the son of a celebrity to release an album," Vashier told RadarOnline.com in an e-mail. "Well, seeing how Howard was saying that celebrity children should not attempt to be in show business, while his own daughter was releasing an album, the hypocrisy demanded the light of day be shined on it.
"It has nothing to do with Emily or her talent."
Stern's lack of publicly acknowledging his daughter's artistic efforts have only fueled the fire of phone pranksters, Youtubers, photo shoppers and message board posters, who often put a hashtag in front of the phrase in attempts to make it go viral, Vashier said.
One passionate prankster/Dawg's devotee nicknamed ARM "took it upon himself to get the word out on Zoo Za Zoo," Vashier said.
Article continues below advertisement
While the fight against censorship has been a battle Stern's famously fought throughout his career -- the Crucified by the FCC star cited the political fallout of Janet Jackson's Super Bowl flash as a key factor in his decision to leave terrestrial radio -- Vashier speculated the Zoo Za Zoo references have Sirius engineers with one finger on the dump button at all times, adding, "there has been word sent down to not allow it to be mentioned on air."
Article continues below advertisement
Vashier noted that while Stern continues to passively encourage his prank callers by playing their work on the air -- admonishing them with a wink and a nod -- he continues to ignore the groundswell of reaction generated by his daughter's work.
America's Got Talent: Howard Stern & Co. Find Booms & Busts In Las Vegas
"What's funny is that you can tune into Stern on any day and hear at least one 'Baba Booey' yelled at a golf match or a reporter doing a live piece," Vashier wrote, "but you won't ever hear a Zoo Za Zoo, which is basically the same exact thing."
Stern -- in both his History of Howard Stern radio anthology and his best-selling books Private Parts and Miss America -- cited the phone antics of show regulars Captain Janks, King of All Messengers and Ponce de la Phone as priceless promotion. Arguably, the most famous call of all was placed to Peter Jennings during O.J. Simpson's Bronco chase in 1994, where a caller named Maury punctuated the farcical call with the line, "And Baba Booey To Y'all!"
Article continues below advertisement
Vashier reiterated, "There is no war with Howard Stern ... if Howard would only listen to his fans advice about the show, it could become what it once was, and it would save the legacy that he is trying to destroy with each new show."