Frank Gifford Did Not Have An Affair With Johnny Carson's Wife! Kathie Lee Gifford Defends Her Cheater Husband Again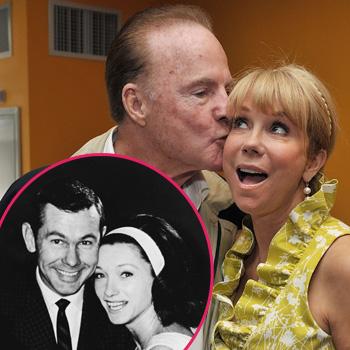 Katie Lee Gifford is standing by her man Frank Gifford in the face of another cheating allegation and dismissing the claim that he had an affair with legendary television host Johnny Carson's second wife.
A new tell-all book by Henry Bushkin details the 1973 affair he says took place between Frank, now 83, and Joanne Carson.
Gifford was then married to his first wife, Maxine, and Kathie Lee spoke about it on the Today show Tuesday.
Article continues below advertisement
"I got the call and Frank was still asleep and... I said 'Tell me, tell me! It was a long time ago. Did you have an affair with her?'" she recalled saying about dealing with the affair report.
"'I can't remember, maybe?'" she said as her husband's response.
"No it's not true," she quickly clarified.
Frank was famously caught cheating on Kathie Lee by the Globe magazine in 1997 but this time she said that the claims of his infidelity are untrue.
"Although the man is capable of it as you know. It's not- he was friends with Joanne," Kathie Lee said.
Bushkin recalled when Johnny told him he thought his wife was having an affair so they broke into an apartment Joanne was secretly renting.
"I have reason to believe my wife is cheating on me," Bushkin claims Carson told him, and that he knew the other man.
"I also have an idea who the son of a b**** is that she's shacking up with," Carson said but when they were in the apartment they found six or seven framed photos of Frank and Carson began to cry. Joanne, however, denied the affair.
Bushkin's book "Johnny Carson" hits stores on October 15 and reveals the secrets of the 18 years he worked for the Tonight Show host as his lawyer, wingman, fixer and closest confident.