Kourtney Talks Breakup With Scott As He Struggles In Rehab: 'I Can't Deal With You'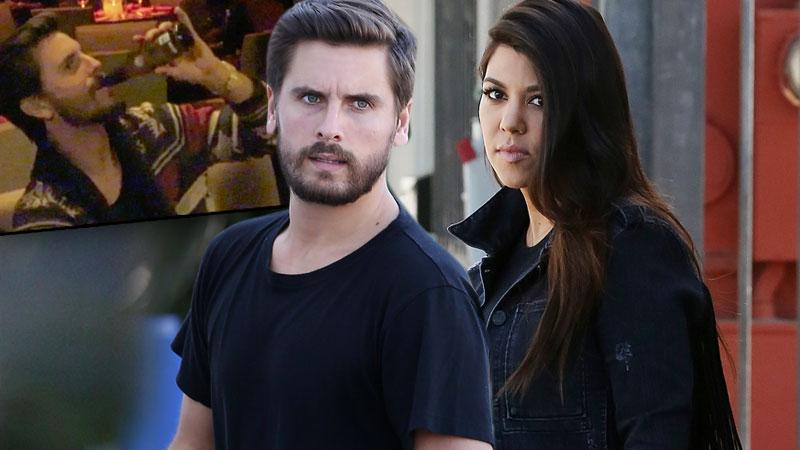 A possible breakup, a rehab stint and a startling confession were the main topics of the night on Sunday's new episode of Kourtney & Khloe Take the Hamptons.
Kourtney Kardashian wondered if her relationship with baby daddy Scott Disick might be over after he checked himself into rehab, and she confessed her Disick dilemma to sister Kim Kardashian.
As has already reported, a near-deadly mix of booze and sleeping pills had sent Disick to the hospital on the previous Hamptons episode.
Article continues below advertisement
MORE: Scott Parties While Pregnant Kourtney Posts About 'Choices' On Instagram
And as the drama continued last night, the father of Kourtney's two kids — with a third on the way — checked himself into the Mountainside Treatment Center in Connecticut to deal with his substance abuse issues.
Kourtney told Kim she'd had depressing conversations with Disick on the phone while he was in rehab.
"I feel like he's angry," Kourtney said. "He's like, 'The biggest problem is me and you and we need to be civil for the kids.' I'm like, 'I can't deal with you.' And he's like, 'Fair enough. We need to figure out a plan how I can see them.'"
A concerned Kim asked, "Wait, so you guys are broken up?"
"I have no idea," Kourtney replied.
Kourtney concluded that they would talk about their relationship "once he's in a better place."
Before Disick checked into treatment, his pal Chris reminded him, "You drank three cases of beer" during a party weekend.
"I thought I was gonna die," Disick admitted about the behavior that sent him to the hospital.
Article continues below advertisement
Disick also complained, "Rehabs are so expensive," but was resigned to the fact he needed to go.
Meanwhile, at her doctor's office in Los Angeles, Kourtney said she didn't want to know the sex of their third baby without Disick present, but looked at an ultrasound picture with sister Kendall Jenner.
Kourtney, 35, told a surprised Kendall, "Scott might be going to a rehab tomorrow. He's severely depressed."
Viewers then saw Disick calling the head of the Mountainside Treatment Center and confiding he'd been taking the anti-anxiety medication Ativan for a couple of years and needed to be weaned off it.
Disick, 31, said in confessional that he had become "a broken record," talking about problems that he never fixed.
"Now is the time," he vowed.
Disick didn't even wait until Kourtney and their kids Mason and Penelope arrived home in the Hamptons, choosing to check into rehab on his own.
Article continues below advertisement
"I'll be anxious to see if he stays," Kourtney sighed.
Later, Chris told Kourtney he'd spoken to Disick and said his friend complained rehab was like solitary confinement and he was considering leaving.
Kourtney hoped that wouldn't happen and commented, "I'm trying to give Scott the space he needs."
Meanwhile, momager Kris Jenner told Kim she was concerned about pregnant Kourtney, and both agreed she was too passive when it came to Disick's problems.
"I'm sure she has nights where she cries herself to sleep," Kris said, before breaking into sobs. "She's in denial about her world falling apart."
In another scene, Khloe and Kim conspired to get Kourtney to see therapist Leigh Weinraub for advice on how to deal with Disick.
Reluctant Kourtney said she wasn't excited to talk to Weinraub, but she finally agreed to meet with the wellness coach as the episode ended.
Article continues below advertisement
Also on the show, the Kardashian/Jenner clan descended on the Hamptons to celebrate Khloe's 30th birthday – but the talk turned quickly to Disick's struggle.
"You have to be really mean. They find every excuse not to go," Khloe — whose own husband Lamar Odom reportedly had drug problems — told Kourtney.
Khloe felt that she didn't need a 30th birthday party given the circumstances, but the family went ahead anyway.
When Kris first arrived, she marveled about Disick, "He's in rehab? Are you serious? Why didn't you tell me this?"
Kourtney told E!'s cameras, "I hope he stays as long as possible."
Then the family celebrated Khloe's birthday on a yacht, with rapper boyfriend French Montana giving her a brand new jeep.
Khloe said in confessional about turning 30, "It's causing me major anxiety. I didn't think I would be divorced with no kids."
Article continues below advertisement
And Khloe, who, as RadarOnline.com recently reported, hasn't pulled the trigger on actually divorcing Odom, was also questioned by mom Kris about why she had moved on to Montana so quickly.
"You're so simple-minded. You have no idea how I feel every day. If I had my way, I would still be married to Lamar! I wish I was still married to him!" Khloe said, ordering Kris out of her room.
Kim later counseled Khloe about turning 30, remarking bizarrely that "Jesus only lived to 33."
"A little bit of Botox and you're good to go," Kim, now 34, joked about aging — but then seriously informed Khloe that she'd felt bad at 30, too, but her life turned around after having daughter North with Kanye West.