Tamra's Final Housewives' Fight? She Tells Lizzie: 'My Husband Would Never Touch You With A 10-Foot Pole'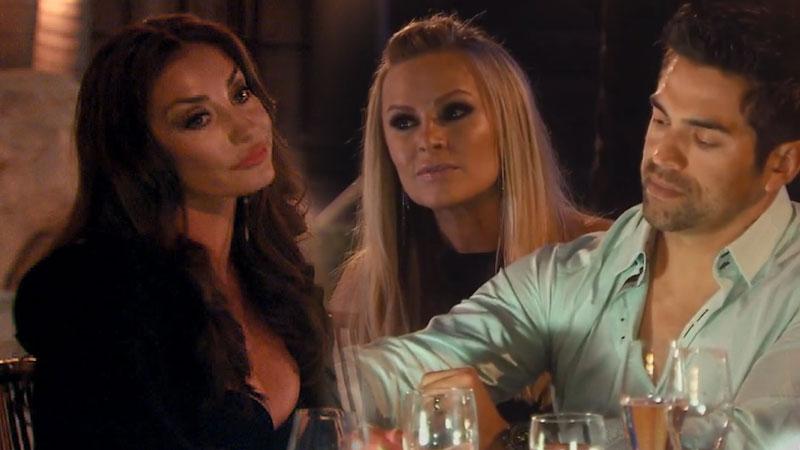 Article continues below advertisement
The incident happened after an off-camera truth and dare style game earlier this season in which Judge was asked who he'd like to marry, shag, or kill and he supposedly said Rovsek would be the one he'd want to "shag."
But Rovsek has maintained she'd said "marry" — and not "f*ck" — to Barney.
"Whatever you think I said, I apologize," Rovsek told Barney during a party Vicki Gunvalson threw for the whole gang on Monday's RHOC.
Rovsek's husband Christian chimed in, telling Barney, "It doesn't f*cking matter. We played the game … when stuff became personal … you kind of closed up."
Barney said, "It did hurt my feelings and actually … when I did get upset was when we were playing the game she said, 'I want to shag Eddie because I want Mexican-Italian babies.'
"And knowing the situation we have with the whole baby thing," said Barney, who had discussed having another baby with Judge, who is Mexican.
Article continues below advertisement
"I was just having fun!" claimed Rovsek, who is Italian.
She then told the cameras, "I don't feel sorry for Tamra and her baby situation. She has four kids. She's been married three times. I think she has plenty of babies. She's almost 50-years-old. She's fine."
But Barney told Rovsek, "What you said about my husband was disgusting."
She added, "Listen, Kentucky Fried T*tties, my husband would never touch you with a 10-foot pole."
Also on Monday's finale, Barney made peace with Gunvalson's boyfriend Brooks Ayers, telling him she was on his side as long as he made Vicki happy.
"Maybe I'm a glutton for punishment," Gunvalson said, indicating she would forgive Barney.
But Gunvalson's party also featured Shannon and David Beador and Heather and Terry Dubrow duking it out.
David apologized to the Dubrows for an incident earlier in the season when he shouted at Heather to spread her legs while she was on a mechanical bull at a hoedown.
Article continues below advertisement
But Botched Dr. Terry was still furious, saying, "My kids and 80-year-old mom were there."
At the dinner table, Terry went nuts, telling David, "You were either drunk or stupid or both for doing that, David. You're a construction guy so you're used to calling girls names.
"You're not calling my wife to spread her legs in front my four children under age ten and then three months later coming up with BS apologies — we have a term for you in medicine — it's called penis!" Terry said to David.
Meanwhile, Gunvalson sighed to the cameras that the highbrow Dubrows were cutting David down for working in the construction field.
Despite the heated confrontation, however, Shannon refused to get upset.
Ayers asked everyone to move on -- and the group looked at photos and video from the ladies' Bali vacation.
Viewers then learned the Beadors want to simplify their life and are selling their house, and the Rovseks planned on trying for another baby after her next birthday.
Article continues below advertisement
After the party, viewers saw Barney and Gunvalson bidding tearful goodbyes to their adult children.
Barney cried when her son Ryan Vieth and his fiancé Sarah Rodriguez visited before driving to their new home together in Auburn, California.
But that wasn't all on Barney's mind as she revealed her emotions about the custody battle with her ex-husband, Simon Barney.
"I feel like I'm breaking. I'm breaking," she told the cameras.
"I'm dealing with some heavy sh*t right now," Barney sobbed. "The things that are really, really hurting me are the things that really, really matter to me."
Vieth and Rodriguez drove away, and viewers were informed the couple's baby is due early next year.
Lastly, RHOC showed Gunvalson watching daughter Brianna, her husband, and baby son set out for their new home in Oklahoma.
"Life will never be the same," Gunvalson cried.
Gunvalson sadly waved goodbye as the family drove away.
"It's like part of my heart is going with her," the queen of Bravo said.
An onscreen update on Gunvalson revealed she's put her house in ritzy Coto de Caza on the market — will fans see her in a new home next season?
And will viewers see Tamra Barney at all?