'RHOC' Recap: Tamra Shocked, Cries 'This Is F*cked Up' As Son Ryan Reveals Wedding Date With Pistol-Packing Mom-Of-Three He Met On Instagram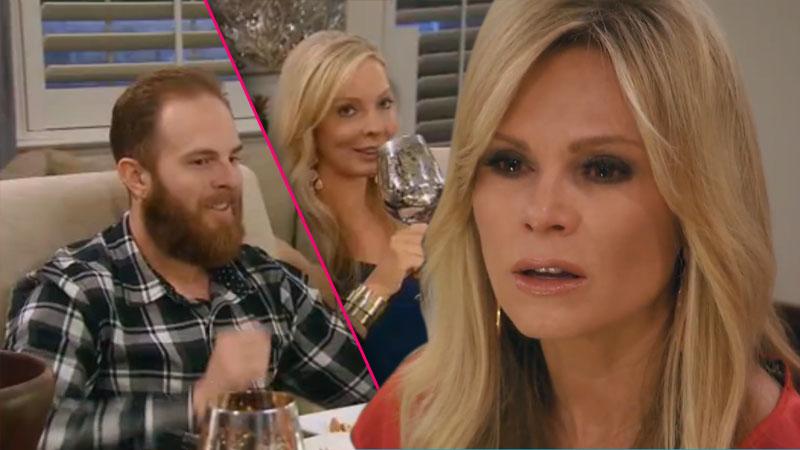 Being a mother hasn't been easy for Tamra Barney, and her complicated relationship with her oldest son Ryan Vieth continued on Monday night's episode of The Real Housewives of Orange County, as she freaked out when Vieth and new girlfriend Sarah Rodriguez, who met via Instagram, announced they had secretly set a Sept. 6 wedding date after knowing each other only two months.
Listen! 'RHOP' star Wendy Osefo breaks down the "most intense fight in the show's history" in under 2 minutes.
Article continues below advertisement
What's more, Vieth's fiancé brought other drama with her, telling Barney she already had three kids, owned a gun shop, and carried a pistol in her purse. (She also revealed that her father had committed suicide by shooting himself after her mother had died of cancer.)
While RadarOnline.com has already revealed some of Rodriguez's family skeletons, RHOC's Monday soap opera began with Vieth, 28, telling his mom he was quitting his job at her CUT Fitness studio to move to Auburn, California, to be with Rodriguez, 31.
Barney was stunned he was leaving her.
"I have nobody. What are you doing?!" sobbed Barney, who has fought a well-publicized custody battle with her ex-husband Simon over her three other kids.
Vieth pointed out, "I'm not 16 anymore."
But Barney told the cameras, "I don't think he knows what he's doing."
She also told viewers that a doctor had discovered that her son, who has previously admitted using HGH, suffered from the blood disorder hemochromatosis.
Article continues below advertisement
Barney demanded to meet Rodriguez, and later, she got her wish as the couple came to dinner at Barney and husband Eddie Judge's house, along with Barney's mom and her boyfriend.
"I'm in shock that Ryan is going to quit his job and move in with a girl he met on Instagram," Barney told Bravo's cameras. "Who does that?!"
Barney added that the blonde beauty "kind of looks like" her, which she felt to be "weird."
Rodriguez revealed she had business in Orange County, owing a gun store in which she sold tactical supplies to law enforcement and military.
She admitted to a startled Barney she owned a gun -- and had it with her!
Rodriguez showed Barney her weapon, and a disturbed Barney told Vieth, "You need to be very careful."
Vieth's girlfriend said her three daughters, ages 11, 9, and 4 loved him, and Barney said in confessional that Rodriguez reminded her of somebody: "In an odd, weird, way, and not in an incest way, I feel like I'm being replaced.
Article continues below advertisement
"Sarah is a strong woman, she owns a business, she's a single mom — I feel like he's dating his mom. Scary."
The gun store owner told the group she wanted more kids, and as RadarOnline.com readers know, Vieth and Rodriguez are already expecting a baby together and announced it, naturally, on Instagram.
When Rodriguez shared with Barney that she had lost both her parents, the housewife got teary-eyed. Vieth's galpal's mom had died of cancer at age 48 and her dad "killed himself…with a gun.
"He couldn't bear to live without my mom."
Then Vieth and Rodriguez, who had waffled earlier about whether they were planning a wedding, finally admitted they had a planner and a location and an incredulous Barney said, "You've set a date?"
Yes, September 6, they revealed.
Frenzied mom Barney told the cameras, "No. You don't know her!"
Barney walked into her kitchen and muttered, "Oh, God, f*ck me. Shoot me."
Article continues below advertisement
She then demanded to be included in the wedding plans and cried.
"This is f*cked up! You can't just spring this on me! ….This is not right," she said, banging the table.
She took a time out with hubby Judge, who urged her, "Let him grow up."
But Barney said, "I feel like I'm having a nervous breakdown."
However, they hugged their guests goodbye.
"Please love him," Barney told Rodriguez.
In another RHOC plotline, the show wrapped up the dinner party fiasco in which Shannon Beador had screamed at rival Heather Dubrow.
"I'm so tired of her trying to spin things," a wild-eyed Beador told the other housewives.
Barney told Dubrow in a private pow-wow, "I tried to hold her down. She freaked."
Dubrow asked her plastic surgeon husband Terry that they needed to call an ambulance for Beador, but party hostess Lizzie Rosvek told the cameras that wasn't necessary, and that she just needed a friend.
Meanwhile, Vicki Gunvalson advised Beador she and husband David needed to leave the party, pronto.
Article continues below advertisement
In Gunvalson's opinion, Beador's breakdown was understandable because Dubrow had gossiped about Beador's martial problems and kicked the blonde out of her house.
"I expected an apology from Heather and an explanation from Tamra — I feel as if I got ambushed," Beador herself said in confessional after leaving the party without further incident.
Later, Barney denied to the cameras that she had told Shannon that Terry wanted "to take the Beadors down" — the incident that started the ruckus in the first place. But then, the slippery Barney added, "Did I? Who knows?"
Another scene showed Gunvalson's boyfriend, Brooks Ayers, asking her to consider living together.
Gunvalson was receptive but the twice-divorced businesswoman stressed in confessional, "I'm not interested in getting married. I just want a partner."
Their one big hurdle, however, is Gunvalson's daughter, Brianna, who's never liked Ayers and made that clear again in a therapy session with her mom.
"You never care about what I think," Brianna cried. "I don't feel like my opinion matters."
Watch the video on RadarOnline.com: