'RHOC' Recap: Tamra Barney Tells Co-Stars, 'You Will Never See My Face Again!" After They Bash Her In Bali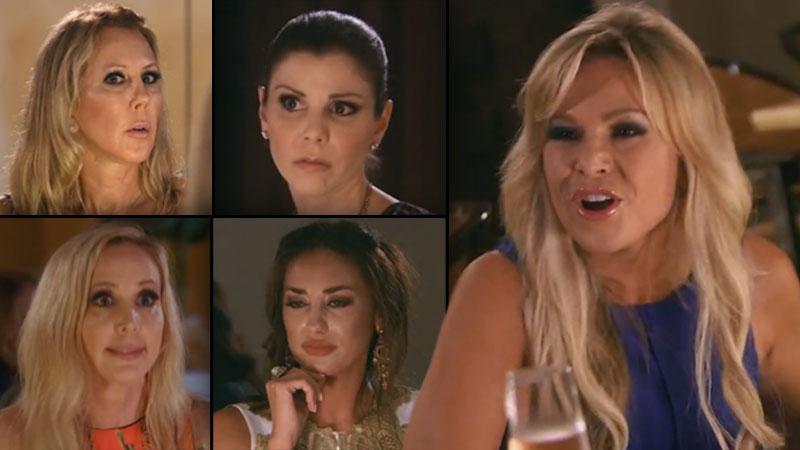 Bali turned into a battleground for Tamra Barney, as her fellow housewives bashed her in an epic confrontation.
After the ladies discovered the cruel things Barney had allegedly said about them, things got ugly at their Bali vacation farewell dinner.
That's what viewers saw on Monday night's The Real Housewives of Orange County episode, which ended with embattled Barney storming away from the table.
Barney fled the dinner, shouting, "You will never see my face again! Goodbye. F*ck you guys!"
Article continues below advertisement
It all started after the housewives spent their last night together in Bali.
While Shannon Beador and Heather Dubrow patched up their differences, most of the women were angry with Barney after having compared notes about her earlier in the day.
Silence descended on the table, as Barney sensed Vicki Gunvalson was mad at her. And she was — because Gunvalson had learned from the other women that Barney had called Gunvalson's boyfriend Brooks Ayers "creepy" behind her back.
"What did I do?" Barney asked Gunvalson.
Gunvalson wouldn't answer, so Barney took a bathroom break.
While Barney was away, Dubrow asked Gunvalson what was wrong and the insurance mogul replied, "I thought she was my friend. What I'm hearing is that she's been bashing Brooks again.
"She told me she's happy for me that we're back together and that she loves us -- while on the other side she's telling them he's a creep. I'm hurt beyond reason."
Article continues below advertisement
Then, after Barney returned from the restroom, Beador leaned over and confronted Barney about why she'd told the others, "I have green Martians living in my head and that I make stuff up."
Barney moaned, "Well, that was taken a little bit out of context!
That's not what I said.
"You're hearing it from these two?" Barney asked of Lizzie Rovsek and her friend Danielle Gregorio.
Beador continued that she'd heard Barney had said, "That I need a colonic so that all the bullsh*t can come out of me? That I need an ambulance, that I need medications, that I'm crazy, that I'm a psycho?"
Barney told the cameras that Rovsek obviously had tattled to Beador about an earlier conversation that they'd had.
The blonde star was herself fuming over Rovsek allegedly telling her that Barney's husband Eddie Judge had said he'd wanted to f*ck her.
Barney wondered in confessional, what did Rovsek have to gain from gossiping to Beador?
"To take the heat off of her for what she said about my husband? Is that what this is about, Lizzie? You did something wrong, so now you're going to try to make me look like I'm the bad person. F*ck you."
Article continues below advertisement
Rovsek said the other ladies had apologized to Beador for their very wrong impression of her.
She then took the opportunity to tell Barney, "I never said that your husband wanted to f*ck me. I said, 'Marry' me."
Barney hit the roof, saying, "Oh, my God! You f*cking liar! That is not true!"
Rovsek insisted she hadn't used the F word.
Under fire, Barney said sarcastically that she'd really lie about that.
Rovsek responded, "You're crap, Tamra. You're the most insecure woman I've ever met in my whole life."
At that, Barney ran away from the table, shouting that they would never see her face again.
Gunvalson burst into tears, saying Barney was no longer her friend.
Dubrow seemed like the only one left in Barney's corner, but then Beador told her that Barney said she hadn't really wanted Dubrow in her wedding. And Rovsek chimed in that Barney had called Dubrow anorexic.
After dinner ended, Dubrow went to talk to Barney privately in her hotel room.
Dubrow told Barney that Gunvalson was deeply hurt, believing Barney had lambasted Ayers.
Barney knew who to blame for those thoughts!
"Lizzie is the most lying, manipulative b*tch I've ever met in my life," she raged to Dubrow.
Barney added to the cameras, "She's a piece of sh*t, she's trash."