RHOC Recap: Tamra Barney Reveals Husband Eddie Said He Wanted To 'Shag' Lizzie Rosvek; Rosvek Has Her Own Spin On Story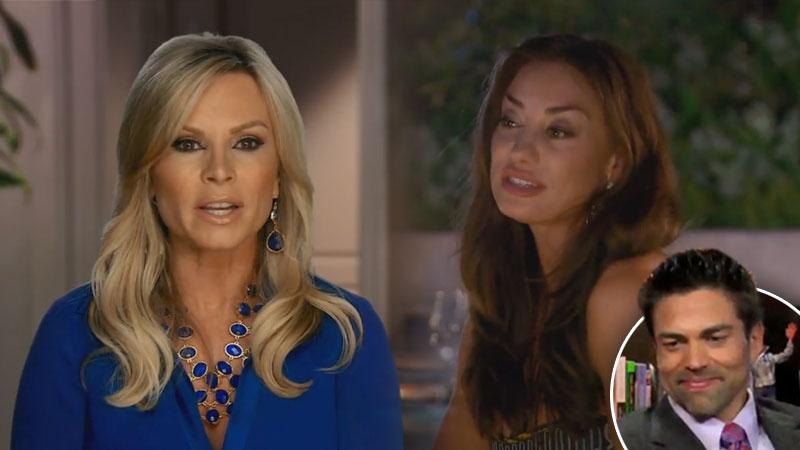 Article continues below advertisement
As RadarOnline.com previously reported, guests had played a "truth or dare" style game during the party scene that aired last week, and Barney exposed her shocking sex secrets with Judge.
But on the latest RHOC, Barney disclosed that much more had gone down that night.
"After the games were over and the night was done, we were all getting ready to leave the Valentine's Day party and Heather goes, 'Oh, I have one more game.' And Heather gives the question, 'Who do you want to marry, shag, and kill?' " Barney told Gunvalson.
"When it was Eddie's turn, he said, 'I'm going to marry Heather…and he said he would shag Lizzie."
As both Barney and Rosvek waited for their limos, the blonde housewife claimed Rosvek "was being really rude and she goes, 'You're just being a b*tch because your husband wants to f*ck me.'"
But according to Rosvek's version of the story, which she separately told to Shannon Beador, Judge had actually said he wanted to MARRY her.
Article continues below advertisement
Rosvek claimed to Beador, "I go, 'You're just mad because your husband wants to marry me.'"
However, Beador told Rosvek that Barney swore that Judge had said he wanted to f*ck her.
Which housewife was telling the truth?
"The fact that Tamra's story is the opposite of Lizzie's? I'm leaning toward Lizzie's side," Beador told Bravo's cameras. "Tamra? She's not the most truthful person at all."
Meanwhile, Barney noted to Gunvalson, who is dating Brooks Ayers, that Rosvek had crossed the line: "If I looked at you and said, 'You're just jealous because Brooks wants to f*ck me,' you would never speak to me. I think that she's foul and she's nasty. I have zero respect for her."
As RadarOnline.com previously reported, the two also argued over their conflicting stories about whether or not Barney had made fun of Rosvek's birthday party dress.
Finally, the bikini mogul snapped at Barney, who didn't attend the birthday party because she claimed her daughter was ill, "You didn't come to my birthday. It was rude. I'm over it."
But as Dubrow commented, Rosvek clearly wasn't over the snub. And as the episode ended, Barney and Rosvek were locked in a bitter feud.
Article continues below advertisement
Also on the show, Barney compared Bali to Tijuana as they were driven through a slum area and later, all the ladies got to ride elephants and drink plenty of cocktails.
While the housewives were bothered by Bali's high humidity, however, they brought their own heat!
In a poolside scene at their vacation resort, Rosvek sought to make Beador an ally in her dispute with Barney.
She informed Beador that Barney had told EVERYONE about the email that her husband, David Beador, had sent her, allegedly wanting a divorce.
Beador, who already shares a tense relationship with Barney, sighed in confessional, "When is this betrayal going to stop?"