MEOW! Lizzie Rovsek Opens Up About 'Below The Belt' 'RHOC' Catfights With Tamra Judge & Vicki Gunvalson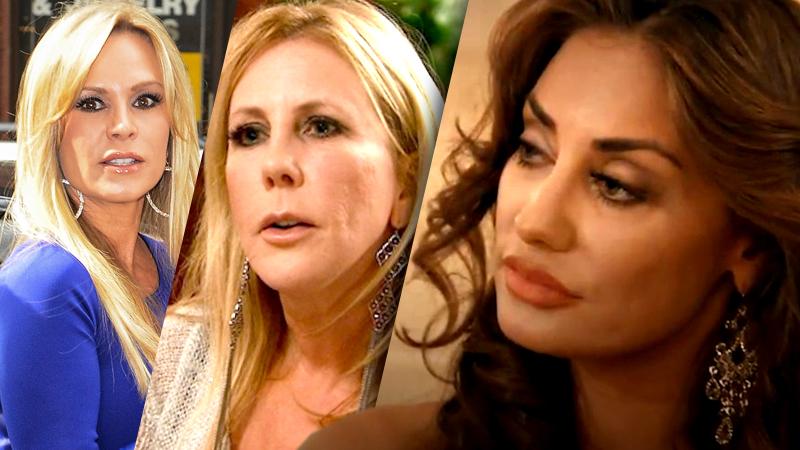 Earlier this week,The Real Housewives of Orange County star Lizzie Rovsek was forced to change a phone number she's had for years after co-star Tamra Barney Judge posted it on her public Facebook page. That was just the latest attack in a long series of hazing incidents that Rovsek has had to endure throughout the season, and the reality TV star and swimsuit designer is speaking out exclusively to RadarOnline.com about what she experienced.
Article continues below advertisement
"I feel like some of the things that happened this season were below the belt and they don't stand by the moral compass that I live within my life," Rovsek told RadarOnline.com. "And I don't get to very below the belt levels with other women."
"It gets to a point where it's not something that you can ever take back, and you can't come to a resolution for certain conflicts," she continued. "And it's just, do you want to put that in your life? Around your children? And stuff like that."
Even before Judge's despicable act, which she claimed was an accident, Rovsek told RadarOnline.com, "I don't really think I have a relationship with Tamra. I thought things were good, and the reunion proved otherwise. I would say there's no relationship."
And she's not the only one on the cast who's given her a hard time, Rovsek said.
"I did get bullied in the beginning and I had to prove myself: I've never had to do that with a group of friend before," Rovsek explained. "And then the one who ended up being a bully, was one that I thought was my friend from the beginning."
Article continues below advertisement
At first, Vicki Gunvalson gave her an especially hard time by forgetting her name and making jokes about her ethnicity.
"It was really tough," Rovsek admitted. "She gave me a little bit of a struggle in the beginning."
But now things are better between the two, she revealed.
"I really love Vicki and I think that she was testing the ground with me to see how strong I was," Rovsek explained. "And to see if I could really handle being in this group because it's a strong group of women. I love Vicki."
Rovsek has completely forgiven Gunvalson for the hazing and bullying.
"It's forgivable, it's all silly stuff," she said. "Vicki has given me some great advice and I look up to her. Things are really good with us right now."
For Rovsek's husband Christian, it was hard to see his wife go through the process of being accepted by her co-stars.
"It's difficult," he told RadarOnline.com. "You have enough going on in your life to have emotional stress caused from a show. So based on just trying to live life and doing what you need to do on a daily basis, to have that thrown in, makes it that much more difficult."
Article continues below advertisement
Looking back, Rovsek only has one thing she would like to say to the women who gave her a hard time.
"Try to put a little compassion in your heart for other people," she said. "There's enough crap going on in the world, there's enough hatred that we don't have to do that to each other. It's hard enough to be a woman, we should try to make each other better and uplift each other and focus on positive instead of negative."