The 'B*tch' Is Back! Embattled 'RHOC' Star Tamra Barney Reactivates FB Page And Slams 'Self-Centered' Lizzie Rovsek After Time Out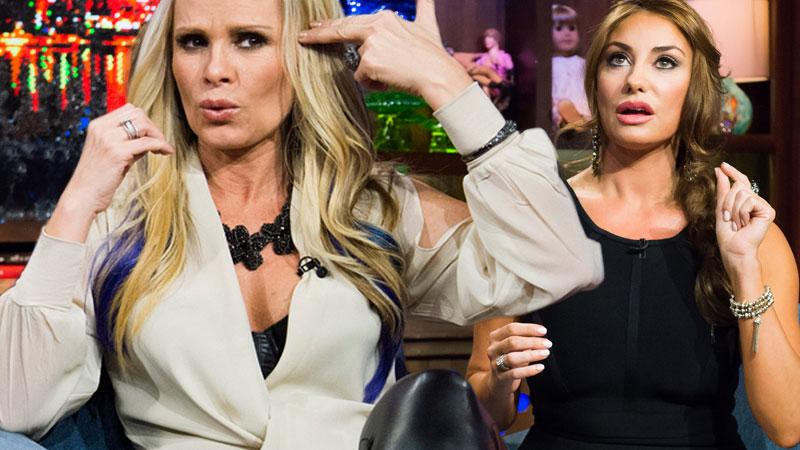 She's baack! After a short digital time-out, The Real Housewives of Orange County star Tamra Barney Judge has reactivated her Facebook account, and she's on the warpath, wasting no time in slamming her co-star Lizzie Rovsek for calling her a "bitch." According to Judge's latest Bravo blog, Rovsek is "self-centered" and "out for blood."
The controversial housewife abruptly deleted her Facebook account and left for Mexico after RadarOnline.com exclusively reported she would not be returning to RHOC next season.
Article continues below advertisement
But the sassy reality star, who is married to Eddie Judge, explained in her Bravo blog today, "Sorry for the late blog, we have been enjoying our summer and just got home from vacation last night."
After the pleasantries, Judge, 46, went for the jugular, bashing Rovsek's complaints about how she didn't show up for her birthday party.
As RHOC viewers saw, Rovsek was deeply disappointed when only Vicki Gunvalson and her boyfriend Brooks Ayers showed up for Rovsek's 34th birthday bash with her husband Christian. But Judge says she's done apologizing.
"How many times do I have to say I am sorry I did not show up to her birthday? My daughter was sick and there was NO WAY I would leave her," the feisty blonde, who has been embroiled in a custody battle with ex-husband Simon Barney over their three kids, wrote.
Judge canceled at the last minute, citing her daughter Sophia's illness, yet Rovsek accused her of rudeness on the show. Rovsek also cried foul because Judge allegedly made fun of her birthday party dress (a charge Judge denied).
Article continues below advertisement
Then Rovsek told RHOC co-star Shannon Beador how Judge had gossiped about her marriage to husband David Beador.
Now Judge has fired back via her blog: "I am starting to see that Lizzie is very self-centered and if things don't go her way then she's out for blood."
Judge particularly took issue with Rovsek because the other housewife hasn't called out frenemy Gunvalson for bad behavior.
"My God, she hears Vicki say 'I don't believe I have to hang out with dumb and dumber' and she is OK with that, just as long as she showed up to celebrate her birthday?" Barney wrote. "I on the other hand have a sick child and I am the devil for not showing up? Shannon called at the same time to tell her they would not make it, but that is okay? I am starting to think this girl just has it out for me."
But then, Judge blasted bikini mogul Rovsek where it really hurts, in her role as wife and mother.
"After hearing her comments this season "that she didn't want to be a mom raising kids is sic suburbia and "If Christian didn't provide her with a better birthday party next year she was going to leave him", I am starting to think that family is not a high priority to her," she sniped.
Whose side are you on? Let us know in the comments!