Exclusive
Face-Off! 'RHOC' Star Tamra Judge's Hubby Eddie Says Lay Off The Botox — 'He Wishes She Would Stop,' Says Source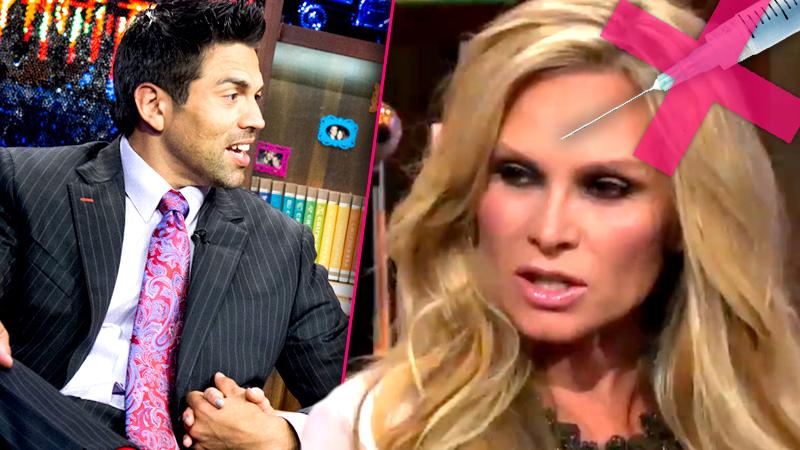 Plastic is not fantastic as far as Tamra Judge's husband, Eddie, is concerned. RadarOnline.com has learned that the hunky gym owner recently told his reality star wife to stop using Botox and other cosmetic fillers because she's starting to look like a different person!
Fans of Tamra were recently stunned by her altered appearance on Watch What Happens Live, and an insider tells RadarOnline.com that Eddie finds her new look shocking too.
Article continues below advertisement
A source close to Eddie reveals, "It's absolutely ridiculous that Tamra has had so much Botox and cosmetic fillers work done to her face. She looks like a former shell of the beautiful lady that she used to be."
"Eddie just can't understand her need to constantly go to the plastic surgeon," the source continues. "And it's become a major issue between them. Tamra does receive a discount on the procedures, but it's still very expensive. More importantly, Eddie prefers the natural look, and just wishes Tamra would stop. Yet, she refuses."
Tamra admitted on-air to Bravo boss Andy Cohen that she'd had "maybe just a little work done," and a top New York City plastic surgeon, who hasn't treated Tamra, recently told RadarOnline.com that it seemed like she had recently had some work done.
"It looks Like Tamra has had her cheeks augmented, most likely with a liquid volumizer or filler," Dr. Norman Rowe said. "Not only do her cheeks appear fuller, but her nasolabial crease wrinkle on either side of the nose is diminished. This is a sign of a a filler having been used. Also her upper eyelids appear to have a deeper inset. I believe she has had an upper blepharoplasty (eyelid lift). This involves removing skin and fat from the upper eyelid to produce a more rejuvenated appearance."
Article continues below advertisement
Tension between plastic Tamra and Eddie seemed to bubble to the surface when he skipped the RHOC reunion show, as RadarOnline.com reported.
Later, Tamra confirmed RadarOnline.com's story, writing on her Facebook page, "Eddie has been asked to attend the reunion show every year for the past 4 years and he ALWAYS says "NO Thank You." Its just not his thing…"
But even though plastic surgery isn't either, the source says, "Tamra refuses to give up the Botox and fillers. She says it's absolutely necessary because of her television career. In her opinion, Eddie doesn't understand the pressure she feels to maintain a perfect physical presence."
What do you think of Tamra's looks? Let us know in the comments!