Exclusive
What A TRANSformation! Transsexual Model At The Center Of Hank Baskett Cheating Scandal Reveals How 18 Surgeries Made Her The Woman She Is Today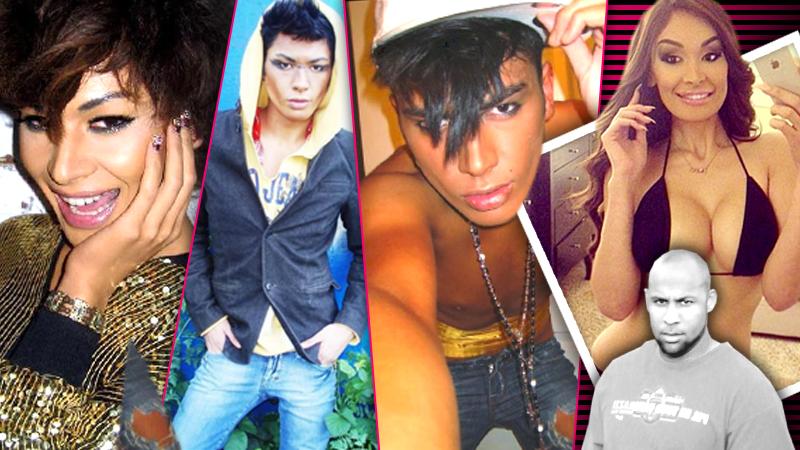 With brunette tresses, pillowy lips, and a curvy figure, Ava Sabrina London has reveled in the spotlight long before she found herself at the center of Hank Baskett's cheating scandal. But it took $50,000 and a whopping 18 plastic surgeries for her to achieve her Barbie doll looks — because London was born a man. Only RadarOnline.com has the exclusive photos of her transformation from male to female, and the details of how she made the difficult but empowering choice to change her body.
Article continues below advertisement
"I always wished I was born a girl," London told Radar in an exclusive sit-down interview "Everything I did to my sister, I did to myself. I did her makeup, her hair, styled her. I wished I was my sister. But I never thought I'd transition."
The former fashion student and transsexual at the center of the scandal involving Kendra Wilkinson's husband, was actually born "Paul" in Modesto, Calif., and didn't start undergoing hormone therapy until three years ago.
"I started in 2011 and got off them," she said. "I was unsure if I really wanted to do this. But in the summer of 2011, I started back on them."
And when London made up her mind for good that she wanted to be a woman, she signed up for her first major surgery only a few months later in October 2011, when she got DD breast implants.
Soon, a whirlwind of procedures followed, including two rhinoplasty surgeries, a chin shave and a feather lift, a type of facelift.
Article continues below advertisement
Then, in May 2012, London began her full facial feminization surgeries, including a brow bone contour, hairline reduction, pulling back of her eyes, and nose job number three.
She also had liposuction in her abs and lower back area.
And that's not all!
In 2013, the 25-year-old underwent eight sessions of silicon injections in her hips and buttocks to give her a curvier look.
And in order to make her harder male features much softer, she also had a full-body laser treatment.
PHOTOS: Scariest Plastic Surgery Faces
The YouTube video model has had a total of three feather lifts, and every six months, she gets Botox treatments in her face and Juvaderm injections in her lips – for a grand total of 18 plastic surgeries https://radaronline.com/photos/so-young-so-plastic-stars-plastic-surgery-before-age-25/ in three years, the results of which she's "so happy" about.
But it came at a hefty price — both financially and mentally.
Article continues below advertisement
"It was scary because I didn't want to just get breasts and be a guy with breasts," she explained.
Luckily, London's ex-boyfriend paid the $50,000 in surgery costs, she said, after she dropped out of the Fashion Institute of Design & Merchandising in San Francisco.
"When I had all the money I was able to do it all at once," she said. "I've been fortunate."
"I was with a group of best friends and they were doing it. I was lost and my friend wanted me to move to L.A. in 2011. And we all transitioned together," London revealed.
But despite the setbacks, London believes that her experience has been easier than most.
"With all the stories you hear with gay bashing or beating up, my transition has been easy and I don't regret anything," she said. "If anything, I would have transitioned earlier."
As for completing the rest of her transition by going through the final stage of gender reassignment surgery with a genital reconstruction, London says that may come in time.
Article continues below advertisement
Article continues below advertisement