Presidential Paternity Cover-Up? Bill Clinton Confessed He's NOT Chelsea Clinton's Real Father, Claims Ex-Aide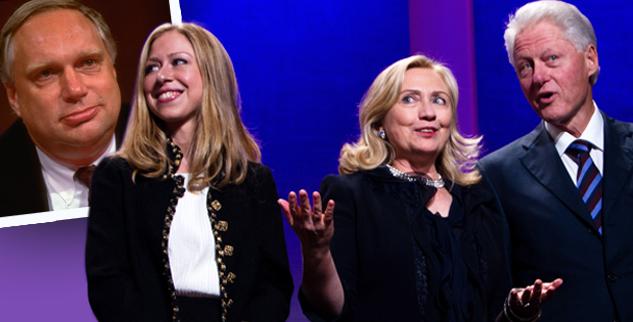 It's the secret that could ruin Hillary Clinton's prospective bid for The White House.
President Bill Clinton once came clean that he was NOT in fact the biological father of the political pair's only child, Chelsea Clinton. Even more shocking, he allegedly said the real father is the former mayor of Little Rock, Ark., Webster Hubbell, who's also Hillary's one-time law partner, claims former Clinton aide Larry Nichols.
Article continues below advertisement
This comes at quite a sensitive time given that Hillary will soon announce whether she will run for president in 2016 and her daughter is pregnant with her first child with her husband, 36-year-old Marc Mezvinsky.
But this isn't the first time the rumor mill has circulated around the 34-year-old former First Daughter's father.
The New Yorker on June 2 cited anti-Clinton blogger Robert Morrow's claims that Hillary and Webster engaged in an affair in 1984 at the Governor's Mansion during Bill's second term.
Article continues below advertisement
"If your wife becomes pregnant, the husband is usually the second person to know," he added. "But I find it very odd that Bill initially didn't find out about his wife becoming pregnant – and had to learn that fact from a newspaper.
"According to well-respected author Edward Klein's (2005) book, The Truth about Hillary, Bill discovered his wife was pregnant by reading it in the 'Arkansas Gazette,' Morrow continued.
Article continues below advertisement
"It's unfortunate, sad really, that Chelsea has no real relationship with Hubbell – who I believe to be her real biological father – when he's alive and kicking and living in North Carolina.
"But it could be she's in denial, despite overwhelming proof that Webb is her real dad."
As the governor of Arkansas, Bill appointed Hubbell as Chief Justice of the Arkansas State Supreme Court, but 10 years later he resigned just before pleading guilty to federal mail fraud and tax evasion for overbilling clients and served 15 months in prison.
The close Clinton family friend, author and lecturer has four kids of his own with wife Suzy and resides in Charlotte, N.C.
Paternity questions aside, Nichols said Bill was a great "father."
"Whatever Chelsea does or doesn't know about her paternity, I'm sure she considers Bill her real dad — despite there being no blood ties," Nichols said. "I saw firsthand what a doting, loving father he was to his little girl.
"He always treated her as if she was his own – which in his heart, I believe she's always been – from day one."