Hillary Clinton Shuts Down Monica Lewinsky Questions: 'I'm Not Going To Comment On What Did Or Didn't Happen' About Husband Bill's Affair With White House Intern & Her Recent Revelations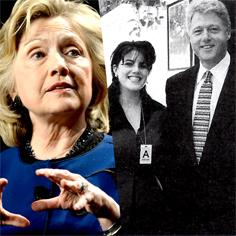 Article continues below advertisement
But the former First Lady is not opening old wounds about the cigar-antics that rocked her marriage and in a new interview dismissed Lewinsky's latest attempt to garner press about her affair with Bill.
When asked by People magazine if she had read Lewinsky's Vanity Fair essay where the now 40-year-old said "Sure, my boss took advantage of me, but I will always remain firm on this point: it was a consensual relationship," Hillary said "No."
"I dealt with all of that in my book Living History," Hillary told the magazine, skirting the topic and the revelations made by Lewinsky.
"That was a long time ago. I certainly have moved on."
In February a diary of a long-time friend of Hillary's was published and it claimed that Bill's wife once called Lewinsky a "narcissistic loony toon" but she refused to address that accusation in the interview too.
"I'm not going to comment on what did or didn't happen," she told the magazine.
"I think everybody needs to look to the future."