Monica Lewinsky's Bombshell Confession: I Was 'Suicidal' After 'Consensual' Affair With Bill Clinton, But He 'Took Advantage Of Me,' & Made Me A 'Scapegoat'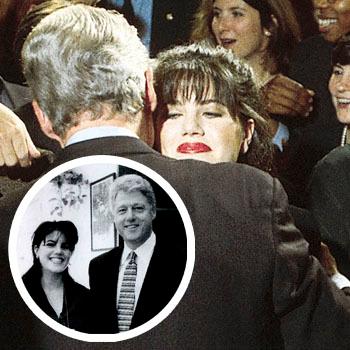 Article continues below advertisement
"I, myself, deeply regret what happened between me and President Clinton. Let me say it again: I. Myself. Deeply. Regret. What. Happened," the California brunette wrote in Vanity Fair.
The timing of her interview comes just as Bill's wife Hillary Clinton is set to possibly run for President in 2016, but she says that the powerful political family had nothing to do with her silence.
Lewinsky said that she refused to talk despite the possibility of earning "more than $10million," saying: "So silent, in fact, that the buzz in some circles has been that the Clintons must have paid me off; why else would I have refrained from speaking out? I can assure you that nothing could be further from the truth."
Reliving the details of the affair that almost brought Clinton down, the former intern admitted that she was branded the home wrecker and political pariah, instead of the married President, and it was his powerful allies that "abused" her.
"Sure, my boss took advantage of me, but I will always remain firm on this point: it was a consensual relationship," Lewinsky pens for the magazine's June issue.
"Any 'abuse' came in the aftermath, when I was made a scapegoat in order to protect his powerful position…. The Clinton administration, the special prosecutor's minions, the political operatives on both sides of the aisle, and the media were able to brand me. And that brand stuck, in part because it was imbued with power."
Article continues below advertisement
Ken Starr's target also revealed that although she never attempted suicide, during her darkest days she contemplated ending her life and when Rutgers University student Tyler Clementi took his life that deeply affected her mother.
"She was reliving 1998, when she wouldn't let me out of her sight. She was replaying those weeks when she stayed by my bed, night after night, because I, too, was suicidal. The shame, the scorn, and the fear that had been thrown at her daughter left her afraid that I would take my own life—a fear that I would be literally humiliated to death."
Become a household name after Linda Tripp revealed the details of her affair she castigates conservative blogger Matt Drudge for his role in her embarrassment.
"Thanks to the Drudge Report, I was also possibly the first person whose global humiliation was driven by the Internet."
Now focusing on the future, Lewinsky says she is wants to stop "tiptoeing around my past—and other people's futures. I am determined to have a different ending to my story. I've decided, finally, to stick my head above the parapet so that I can take back my narrative and give a purpose to my past. (What this will cost me, I will soon find out.)"
Facing her tarnished reputation and two decades of "abuse," Lewinsky explains her reason for breaking her silence now.
"Perhaps by sharing my story, I reasoned, I might be able to help others in their darkest moments of humiliation."
The full story is available May 8 in the Vanity Fair digital edition and the magazine will be on national newsstands and available in an audio edition on May 13.