Exclusive
Monica Lewinsky's Black Negligee, Hand-Signed Letters By Bill Clinton And Other Sex Scandal Items Up For Auction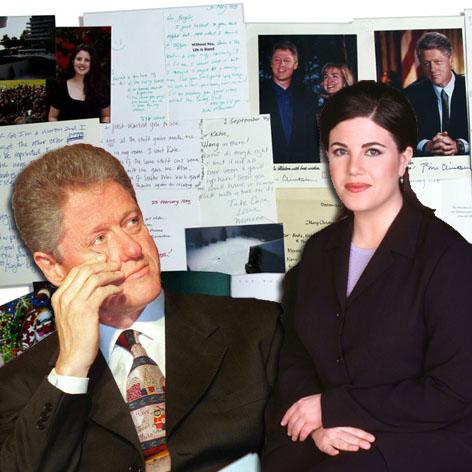 During the height of her affair with President Bill Clinton, ex-White House intern Monica Lewinsky had the leader of the free world write a congratulatory note to her secret lover, a Portland, Ore. based high school drama instructor.
The typed, signed letter on White House stationery was addressed to Andy J. Bleiler -- who admitted to having a long running affair with Lewinsky at the same time as Clinton -- and read: '"Dear Andy: Hillary and I want to personally extend our warmest wishes to you as you gather with your family and friends to celebrate your birthday. As you look forward to the year ahead, please accept our best wishes for good health and much happiness. Happy Birthday!"
Article continues below advertisement
The never-before-seen letter is contained in a lot of Lewinsky's personal items which she sent to Bleiler during her scandalous days working at the White House and will go on the auction block on June 27.
According to the listing, Clinton wrote the letter for Bleiler at the request of Lewinsky, who told a grand jury investigating then-President Clinton that she had nine sexual encounters with him between November 1995 and March 1997, including oral sex in the Oval Office.
In another letter dated during the Lewinsky-Clinton affair, Lewinsky admitted: "Am I good at lying through my teeth or what."
She also sent Bleiler and his wife Kate two signed photos of Clinton, including one with First Lady Hillary Clinton.
The 32-piece lot is extensive: One bidder will also snare Lewinsky's personally-owned black negligee, a handful of official White House issued items and eleven greeting cards sent and signed 'Monica', 'Monka' or curiously 'Monstreeka' by Lewinsky to Bleiler.
Article continues below advertisement
The White House issued keepsakes include a book of White House matches, sealed box of presidential Whitman's chocolates, three sealed boxes of presidential M&Ms and four programs titled ''Holidays at the White House 1995.'
There are also a host of love letters she wrote to her secret lover Bleiler, who she had a series of extramarital romps with, beginning in 1992 and running through 1997.
She added an inscription to a Valentine's Day card, '"Dear Andy, Happy Valentine's Day! I hope this day is filled with lots of love, hugs, n' kisses!!! I miss you! xoxoxo Monica''.
In another, she writes, '"...I thought enclosed ring might fit a manly man like you (am I good at lying through my teeth or what...you a 'manly man' - ha-ha)!...Here's a picture of me for...the shrine you guys are building for me in honor of my absence'"
The items were reportedly examined as potential evidence by Kenneth Starr's team in one of the most controversial presidential scandals of the 20th century.
Article continues below advertisement
The lot also includes copies of newspaper articles about the Bleilers' involvement with Lewinsky and their interviews with Starr's legal team.
"Items owned by Monica Lewinsky, especially relating to the Clinton scandal and Ken Starr investigation are exceedingly rare," Nate D. Sanders told Radar. "This is, to my knowledge, the only collection of this nature to come to light."
In 1998, Bleiler said Lewinsky had called him as often as four or five times a day after moving to Washington to become a White House intern, during which she would talk obsessively about sex.
She also boasted to Bleiler that she was involved in a sexual relationship with a "high ranking White House official" who she referred to as "the creep," the same phrase Lewinsky used in referring to the president on secretly recorded tapes made by Linda Tripp, a former U.S. civil servant who testified in Clinton's impeachment.